I am all about building our village, as we cannot do this thing called life alone. For instance, being a new parent is hard and one thing that helps is learning how the reality doesn't always meet our expectations. One of the indicators of strong postpartum resiliency is having a good support network. Being with others to unpack this and get support is an important part of adjusting to this new role in your life. This goes the same for any new transition in your life – as social creatures we thrive when in a community.
Come join us…
Online Resource
Postpartum Support Toronto Online Free Therapy Program
Register for this FREE online webinar series where i guide you through 4 different expressive arts therapy tools to help with birth trauma, anxiety, negative and/or racing thoughts, and having a mindful moment to yourself as a parent.
UPCOMING EVENTS
Stay tuned for more details coming soon
PAST EVENTS
Postpartum Support Group
Oaks and Acorns
Various guest visits to this amazing group – Participants discussed the reality of motherhood as not quite the same as we expected. It can help us talk about this and see that we're not alone. Adjusting to the Fourth Trimester take some time. As February was the "month of love" I joined the group and we did a self-love based expressive arts tool. Who says watercolour painting is just for kids??!
Maternal Goddess Conference
This was a fantastic day, where the focus is on celebrating and embracing our postpartum bodies. I was part of a panel discussion on creating a more positive Mindset and Acceptance of our bodies.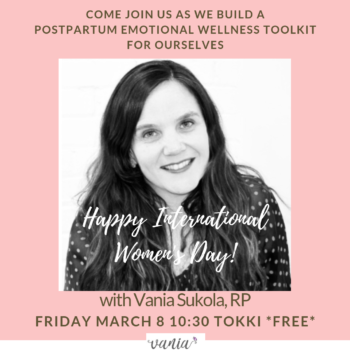 At Tokki, i spoke about one of my favourite topics – how to build your postpartum wellness toolkit! We brainstormed on how to add more self-care to your life, and how to get the balance you deserve.
Ontario Early Years Centre – Self-Care Ideas for Postpartum
Nutmeg Moms Group – Building Your Postpartum Wellness Toolkit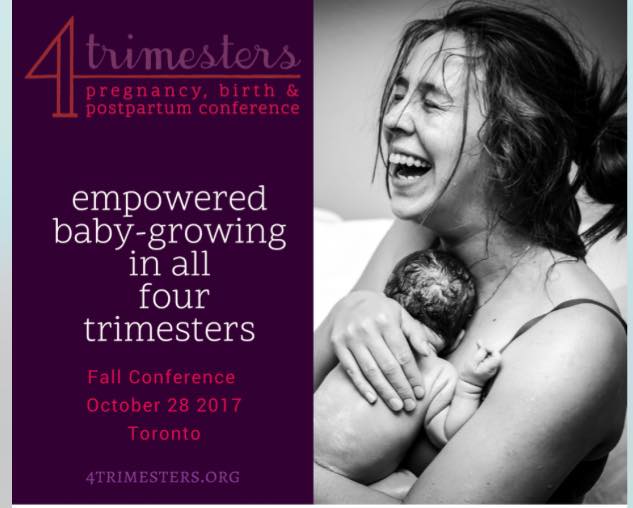 4 Trimesters is a conference that focuses on the 4 trimesters we go through when we are thinking of and becoming pregnant, and the first few months postpartum. In Fall 2017, I spoke about How We Process Our Birth Stories. Check out this link to get more info!
ARTICLES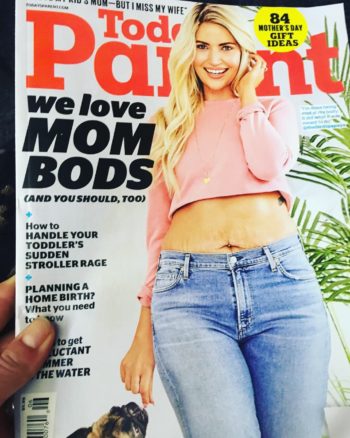 The 3 R's of Self-Care: Planting Seeds of Self-Love – Sacred Wildwood Journal entry May 2019
We Love Mom Bods and You Should Too – Today's Parent article May/June 2019: i'm Featured in this powerful article by Olivia Stren about accepting our postpartum bodies.
Why Date Night is an Important Part of Postpartum Mental Health –
Come read the guest blog post about it on Date Night App page.
Extra-Curricular Activities for Kids: Yea or Nay? – I'm featured in this helfpul article on Mothering Magazine.
SPEAKING ENGAGEMENTS AND PROFESSIONAL WORKSHOPS
If you run or facilitate a group program (whether it's for new parents, wellness Toolkit work, self-compassion or for women who have experienced gender-based violence), and would like to invite me as a guest speaker or to provide consultation, please don't hesitate to contact me. I'd be happy to create a unique topic for your group. See list above for topic ideas I have covered.
BABY MOON GROUP
At this time, further groups are on hold. Stay tuned for some exciting news, including some guest speaking opportunities in some other groups.
Here are the details of past groups:
In our Baby Moon Group, we focus on you as the mama, while we are also mindful of your babies who will be present with us. It's a time for us to gather and share with each other, and build a strong sense of community for ourselves. It's an opportunity for mamas to take a breath and be present with themselves, and receive some postpartum support. We hope that by attending this group, you will learn helpful wellness tips, so that you can be the parent you wish to be. And please note this group is not just for new parents – mamas with older kids have a lot of expertise and wisdom to share and are welcome too.
As the focus is on the parent's mental health, we see this group as quite separate and unique from other birth and baby-focused groups that are also such an asset to new mothers. One of the topics will be helping women look at potential warning signs for postpartum mood concerns. We will look at ways we can provide ourselves with self-care and wellness support, even when we are exhausted and stretched to our max! Another area we will look at is couple communication, as conflict in couples can escalate during pregnancy and with a new baby. We use art prompts in group sessions. Did you know that being creative helps us feel better? By using that side of the brain, we can delve deeper in helping ourselves emotionally. I'm not an artist by any means but i love being able to knit, doodle, work clay in my hands. I bet you will too!
While this is not a therapy group per say, please know that we will ensure to provide you with a safe and non-judgmental environment. The focus of this group is on wellness support and self-care tools that you can use, even while busy as a new mama. With these supports and priorities in place, you will have more peace and strength as you embark on this new journey as a mother. In each session, there will be a chance to use art prompts like clay, art journaling, mindfulness work and other useful activities that you can do at home as well.
This new stage in your life is a special and demanding time, and we hope to join you on your journey by providing you with the added nurturance you need. Our sessions will include the following topics: adjusting to your New Family Life, sharing Your Birth Stories, building Wellness Toolkits for Yourself, and unpacking What Are Our Expectations vs Realities are as parents. At each session, we will have a chance to connect with the other mamas in the group, and a light snack and tea will be provided. The ultimate goal is to help you build your postpartum resiliency!
We are updating our group program so come back here to get an update. Please note that it may be a 6-week group format or monthly workshops. Members of Healthy Moms Toronto get a 15% discount. Please contact us to register or if you have more questions. Here is a flyer for you to see as well. Stay tuned…