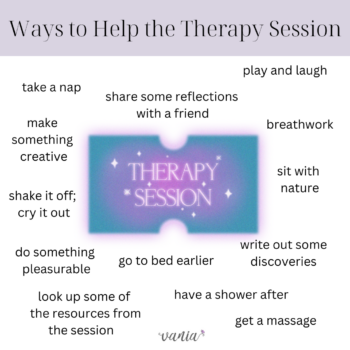 The therapeutic relationship is a big part of what makes therapy worth it or not, helpful or not. We need to feel that the person cares about us so that we can trust them with our secrets and innermost thoughts. Here are a few things to look for in your therapeutic relationship:
* Rapport
* Taking Exquisite Risk
* Notice the progress
* Can be honest
* Space is comofortable
* Feel safe
So, while the therapy style or modality is important, the rapport is what deepens the experience.
Healing takes time. Therapy does too. We are not robots to be fixed. We are humans who have detailed stories that need to be heard. We need to be witnessed.
I think of a therapy session as where the magic happens. And yet, therapy and healing is not linear. Life gets in the way, and it's a 2-step forward 1-step back kind of progress. It's where just enough new ideas or growth happens to create a ripple effect of healing or change for someone. What makes it sustainable is what happens between sessions. The work doesn't start and end in the therapy room but in real life. Therapy is the catalyst for change.
I created a simple worksheet as a great resource to help you debrief about your therapy sessions. You can copy it and print it out, or treat yourself to a notebook that is specifically for therapy sessions. HERE is a link to the pdf version of the therapy session notes.