This summer, i intentionally turned inward a lot and slowed down even more. This sacred pause has given me gifts of soft fascination: I have been in awe of the vast array of city flower gardens in my neighbourhoods. I admired the abundance of honey bees in my own wee garden. I have read books that honour nature and how its resilience can teach us everything about life and living.
My body experienced the benefit of rest and pause, as the foundational need that it is.
I also thought about the inner lives we all have. We all have that inner story – that quiet voice that keeps coming back to us in whispers, a lot of the time in shadows.
One part of my inner story has brought me back to my early curiousity of the Goddess. Not just the Triple Goddess of the Maiden Mother, Wise Woman, but that lush and luminous Goddess figure herself. At my most present and regulated, this is the story i've been re-visiting this summer.
I wore summer dresses that helped me embody the Goddess; i ate juicy fruit; i danced in lake water. I wore my long hair down and felt the sweat of summer sun on me.
Our inner story is happening all the time. Sometimes, we are the writers of the story. Other times, we are the audience of our own narrative storyline. Oftentimes, our response to day-to-day interactions comes from our inner story; and it often has nothing to do with the actual interaction. Sometimes, what i think is the story is just the overstory, the backdrop. Sometimes, i am rudely reminded that what i think is the story or point is not, but in fact it is the epilogue that provokes an old, nuanced and hidden story in my body. One that i wanted to long forget.
For instance, this summer i experienced a few revelations that have shown me that i am both further along in my own growth and also still more wounded than I realized. It has shown me that healing is a constant process, and one that is not necessarily linear.
It's Not about the Paint Job
After living in my own house for over a decade, it was time for us to paint the exterior. The paint was beyond chipping, it was not a colour i liked, and the damage was starting to cause trouble to the integrity of the house. Plus, after being at home almost 24/7 for 18 months this past year, i wanted to be proud of the dwelling i call Home.
I am by no means a seasoned or knowledgeable renovator or handyperson. Getting quotes, calling people to book things, and otherwise trying to speak their language is always something that causes me discomfort and ultimately dysregulation. While i am a child of a self-employed house framer by trade, my own father's understanding of home repairs was foreign to me.
When it came time to go ahead with the project, we were very confused, surprised and disappointed with the whole experience. I am grateful that the colour is something i love, but the work of the "professional painting company" was a very far stretch from the word professional. They literally splatted paint on my neighbours own newly painted walls. Twice. They splattered paint on our front doors and windows, and on so many other things. We were in constant conflict, and by the last day, when we had to ask again for them to do a better job, and to actually do what they were contracted to, my body was screaming for me to listen to her.
I am conflict-adverse. My need for Flight is pretty prominent. As a woman, i was socialized to be a People Pleaser and to avoid conflict. I think most people are conflict avoidant, to some degree. And yet, conflict is inevitable.
At first i thought it was my fear of conflict and negative feedback that made me feel so nauseous. Maybe it was my people-pleasing part that struggled when my breath was shallow. My inner Nice Girl was wanting to throw up inside. Ultimately, i had to slow down and really take stock of what was happening. I realized it was a Wounded Exile Part that has been quiet and in the shadows for years: My Inner Teen who was hurt too many times and did not trust smarmy boys with false promises. Boys who are pushy and have egos that get in the way of their own vulnerability. This crew of young painters embodied that.
So, i chose to honour my body and listen to her. My partner stepped in to support me and used his own skills of conflict resolution and non-violent communication. I realized that while a part of me – my more present Manager part – was angry at myself for not being assertive and demanding better, my more compassionate parts just wanted to do what was best for me. Ultimately, we settled for less than perfect but i was happy to be done in the end, and able to address our needs. My voice was not as vocal as i wanted and yet my body was telling me all i had to hear.
I chose to listen to her and not override that she needed love, attention and care. My Manager was disappointed but my Inner Child felt seen.
The Waterfall Heals All
Immediately after this experience, i went away camping. Like that same day. For weeks, i was looking forward to this weekend away with friends. It was long-overdue time together. On one of our adventures, we went to a local watering hole that was known to have a waterfall. As this weekend was the final days of an epic heat wave, this spot was a perfect remedy to cool down. My Inner Goddess was also so excited as it has been my fantasy to swim under a waterfall for years.
When we got to the spot to climb down, my stomach went into flutters: It was a steep, slippery climb down. I told myself that i couldn't do it. Who did i think i was, a sprite young thing? A reckless child?
The only thing to hold onto the rock wall was a sketchy looking rope. It took me a moment or two of quiet discernment to scan if i didn't just WANT to do it but also that i was CAPABLE to.
This was a calculated moment of pendulating between a fear state versus an embodied sense of knowing i could do it.
I chose that i could do it.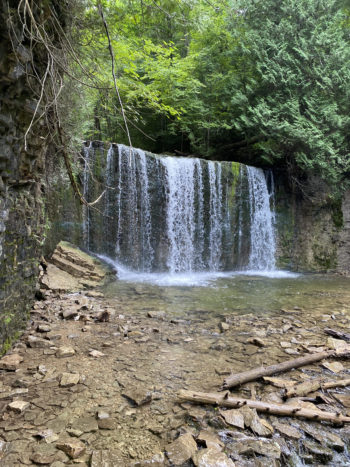 Once i made that first step down, i knew i always knew i could do it. It was that fine balance of calculated and exquisite risk. It was also that perfect remedy, a counter to what my body felt only a few days prior.
That initial victim or exiled worried girl who showed up just days prior was met in the eyes and told she could do it. I held her with love. This climb down to the water was the perfect healing antidote to remind me that my body does know. She also felt vindicated. All my parts felt seen and i was actively in my most present self – she who is calm, curious, clear, and compassionate.
The water was a glorious gift at the end of the climb. I spotted my whole family as they came down and it made me even more excited for future waterfall adventures.
Tara Brach talks about "real but not true" as a beautiful resource to help us notice if the thoughts and feelings we are having are taking over us. Sometimes our mind and body play tricks on us as a way of protecting us. Yet we need to fact check how real is the feeling, how factual is the thought. Even by inserting the possibility that it may not be true, that lessens the fear that's taking over our body.
When you are pondering if the fear you have in a given moment is real or true, ask yourself "who would you be if this fear or feeling was not real?" Remind yourself that this feeling may be true but is not real – it is based on old worries and is trying to protect you from getting hurt now.
Story Follows State – most of the time
Our body responses aren't always about a trauma story. Sometimes it's also just what is familiar in our bodies over time. Our body stores its own memories from repeated events, like riding a bike or rolling pizza dough. For instance, as someone who grew up swimming in oceans and lakes with a shoreline, it wasn't common practice for me to canoe or kayak, let alone be in a boat. So as my family has access to a cottage with various types of boats now, I had this identity that I didn't know how to paddle a kayak.
More recently, i have fallen in love with paddle boarding (SUP), a close cousin to my love of surfing. Now, what i do know is how to stand on a paddle board and use a paddle. Being on a SUP is one of my happy places. It provides moments of peace and embodied joy for me. I also feel fearless, strong and powerful on it.
This summer, when planning to go to a local beach near the cottage, we only could get there by kayak and canoe. I had said to myself (and outloud) that I didn't know how to kayak let alone canoe. I had that beautiful moment where I noticed what I said and checked myself. Of course i know how to kayak – it's not that different from paddling a SUP. It was a moment of challenging my thought about myself, and realizing that my body was more capable about doing something than i gave credit. It was my inner story who said that I couldn't do it. What an amazing moment of reckoning and reclaiming of what I can do.
Not only did i get to that beach, i showed my daughter that it was possible to do something we have never done before. My body felt so strong after, and the beach was even more pleasurable and empowering than getting a ride there would have been.
It's moments like this where we notice that our thoughts are always true and that the facts live with the body as it knows better.
The sweet reward is a waterfall waiting for you at the end of a rope.