As a trauma therapist who specializes in helping heal unhealthy relationship dynamics and recognize relationship red flags, i am always rooting for love. Displays of healthy love are inspiration for us all. This is especially important to model for younger generations who have grown up with social media at their fingertips.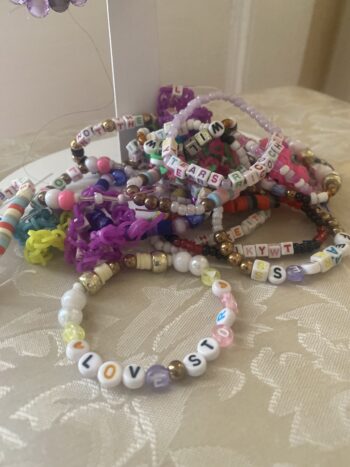 Like many of us, I have been watching the evolution of Taylor Swift. It's hard not to – whenever i hop onto social media, there is a video clip of her dancing, or singing, or living life in general. Full disclosure: i am a mom of a Swiftie so i'm sure my algorithms are definitely rigged.
Having said that, i have such deep empathy for anyone in the public eye. She is just a human trying to live her life, and yet she is under the lens of the world as she does so.
It made me reflect on ways we view social media, pop culture, and also TV shows in general as fodder for life lessons.
We already know the role TV has on getting rest and self-care. Historically, it was an option for slowing down and being with family and friends. There has been recent research that connects social media scrolling and dopamine levels. And yet, i worry about the misuse of it these days. I do think it's worth noting how TV shows or social media impacts you – does it give you rest or does it activate you? Does it make you feel seen and foster mirror neurons or is it triggering?
This requires a critical lens, and if that is hard, a self-reflective practice at least. As a modern therapist, i am not against pop culture. I am also not against resting my body and brain while watching a good show. Like all coping strategies, we need to know how it serves us and how to do it in moderation so the resource doesn't become maladaptive, or a crutch. It is important to me to help clients find resources that they can use in their everyday life. This is one of the benefits of technology – we can stream old TV favourites, so we don't have to just scroll endlessly – we can have some agency and intention with this.
For instance, a resource i offer to folks who are struggling with feelings of shame or aloneness is to watch a show on TV that reflects what they are going through. In fact, here are some old journal articles i wrote about some specific shows i found fascinating. The fact that a writer created the story that was then filmed and shared for all to see is very empowering and validating. We are not as alone as we think we are. Thanks to Brene Brown, we also know that shame lives in isolation. A way to reframe this mindset is to seek Common Humanity – this is a term that comes from Kristen Neff and her work around self-compassion.
Let's use Taylor's current love life as an example: she is seemingly falling in love with a football player with the eyes of the world viewing it like a rom-com. No pressure, Taylor but you are a model of what love looks like, whether it is good, bad or ugly.
I'm watching Taylor and Travis fall in love and i'm hopeful about the example they are setting. Supporting each other's careers? Check. Being happy to witness each other in their success? Being seen in your commitment to each other? Check. Being comfortable in your own self-worth when you are dating a BILLIONAIRE? Check. Being kind to friends and family of your beloved? Check.
I mention these observations to my kid, who is a Taylor Swift student. Having these conversations are necessary, as it ensures for me that my kids can look for this in their own life. I am a feminist mom and therapist, so i make a point to teach both my kids about life, love and self-worth. And sometimes, TV and movies are a great ice breaker or tool to help facilitate these conversations.
This brings me to the shows i'm watching with my kids: Gilmore Girls and Heartstopper.
I didn't really watch Gilmore Girls when it first came out – i was a bit too 'old' for it and yet i absolutely know its story. I watch it now with my 11-year old; we debate about the boyfriends, we discuss the mother-daughter relationship, and i get to use the grandmother-mother storyline to help unpack my own messy relationship with my mom. Shows like this can be a good catalyst to discuss more real and relevant stories in our own life. In fact, i remember being taught to do something like this when my kids were wee and needed a story outside of our personal one, to get some perspective and insight. I would role play with peg dolls as a way to address big feelings. I guess this is the older kid version, using fictional stories to help make a point land in a less direct way.
As Gilmore Girls is a bit dated now, to say the least, i'm so grateful that Alice Osman's graphic novel series Heartstopper was turned into a TV series. This is just what my big kid needed, to feel seen for who they are and what that they grapple with – gender identity, relationships, and life in general. We all cheer on Charlie and Nick, and my kid knows that we support them too because we watch the show together and unpack its key themes.
If it isn't obvious yet, I am a fan of TV, whether it is for a good laugh, or to feel less alone in things, and also sometimes to show my people what i do as a living – being a therapist is inherently a very secretive business, isn't it?
For instance, here's a show that i didn't know was good until just last year: Virgin River. This show gets so much right. It centres the stories of women's health, family violence, sexual assault, reproductive health, intergenerational trauma, and relationships. Clearly i'm biased but this show covers stories and themes we all need to learn more about. This past season alone checked a lot of my own boxes and i was so grateful that popular shows are addressing these topics.
I also have been devouring the show Outlander. I'm not quite done, and have to take breaks from it at times. But it covers so much ground and i think it does some justice to history, without adding too many revisions. Of course a big draw is the period clothing, the fact that a woman is a doctor in the 1960s AND 1700s, and yes the sex scenes. One area that is significant for me is how they address various trauma storylines. One recent episode that was quite triggering and painful to watch was when Claire (the main character) experiences a gruesome attack. I won't go into details about the incident itself here, because what i found more profound and thus worth mentioning is her resilience to do what she can to lessen (or titrate) the impact on her. She escaped in her mind in ways that her body could not – she envisioned her family happy, safe, and together in a place that was far away from what was happening to her in the present. In Narrative Therapy, we call this an Act of Resistance – a seemingly small act that has such a powerful way of escaping from the pain she was enduring. This is not merely a distraction but a key tool that people can use during extreme acts of abuse. In Sensorimotor Psychotherapy, we use a similar resource where we bring in our sensations and 5 senses to recall a 'happy place' with an embodied dual awareness.
Some shows are heavy and need to be. They share what the impact of trauma may look like. Remember i shared above that a pillar of Self-compassion is community humanity, which is necessary to help us not feel as alone in our experience as we think we are. Having a shared experience gives us clarity, reassurance, and medicine for any shame we may be carrying if we think something only happened to us. A show that does this well is I Might Destroy You. The single-season show centres around a Black woman and the sexual assaults she experiences. She has to grapple with the aftermath in many intersecting ways. She doesn't do it alone and is messy and real, and the show does a great job in reflecting what real-life sexual trauma survivors experience.
On a lighter tone and still about sexual health is Sex Education. It is TV gold. I mean, come on – this is good TV through and through. I don't want to give any spoilers so what i can say here is that they clearly have folks on the writing staff who know what they are talking about. They did their research. They cover such key topics like what enthusiastic consent is, postpartum Mood disorders, trans youth experiences, a diverse continuum of sexual identities, and also how awkward it is to talk about what you need and like. And it highlights how imperative it is to learn how to talk about sex. And this is just from the final season, so don't take my word for it – watch it!
Speaking of sex, i am a fan of Sex and the City. I'm not ashamed to admit it, as Carrie Bradshaw is a bit of my muse. So of course, i wanted to enjoy the latest iteration …And Just Like That. While it didn't 'quite' cut it, i can relate to Charlotte's experience of menopause and not having my full cycle appear for months. In the recent season, they made a point to also give Charlotte a monologue about mental load. I love this scene so much. So a show that brings in storylines about being a working mother and menopause is still a win for me.
So, just in time for our cave-like cocooning season of Winter where i live, this is my list of some TV shows that you may want to save on your watch lists. What would you add?
No don't get me started on Workin' Mom's and the character Anne, who's a therapist…. Another article that i keep writing in my head is how therapists are displayed on TV and in movies, and how they don't always portray is in the best light. Have you seen Ted Lasso? The actual therapist is a gem and i don't want to spoiler any storylines.. but come on, we need to want people to WANT TO come and be vulnerable and held, don't we?