We're in the midst of the holiday season right now. Our home is decorated, we've already watched seasonal movie classics, our holiday records are on the ready, and we have been excited about our Advent Calendar each day. It's hard to not be excited about the holidays, when you have small children it's almost a contagious feeling.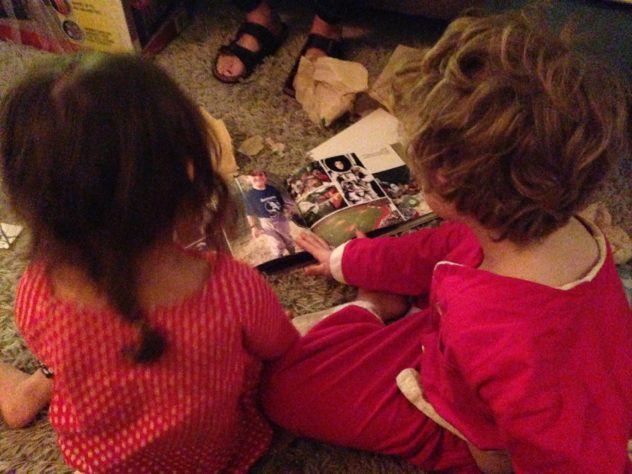 But, there are times when it's just so.much.work to be happy and on top of things. We did two holiday fairs yesterday alone. We had to see Santa and we had to see the Good Witch too. So that means TWO full fairs that are normally not on the same day, nor should they be.
So, as someone who tries to live with an intentional word for each day, i made a point to bring JOY into my day yesterday. And you know what, it worked! I had a blast – i was in there when it came to strolling in the school halls of standing room only busy-ness. I caught myself smiling while watching my happy kids talk to Santa. And i loved how earnest they were in their wishes this year – my son wants a Star Wars Lego toy more than anything, but when Santa also offered Harry Potter's invisibility cloak, my son thought it was best to wait for that request until next year. Thank goodness – little does he know i'm making him just a regular Hogwart's cloak. My daughter – well she asked for a ride on a unicorn as her special gift from the heart. Of course she did.
I know it can be so hard to get into the holiday spirit and this time of year can be especially triggering for some of you. It's also hard to spend extended time with family, and their unwelcome and unkind comments. While we can't control other people's comments, nor can we wave a magic wand a la Harry Potter, i do think it's a good practice to reclaim the holiday spirit and work at staying positive. I love the workbook Mind Over Mood, and i also love the mindfulness practice of the holidays – the scents, sounds, visuals, tastes, and the cozy textures are a great way to absorb Joy for instance. Even when i can't escape the hecticness, the work, or the stress, i know i can come home and put my cozy red slippers on and drink a hot cocoa – complete with Elizabeth Mitchell Christmas album.
I guess i'm a kid at heart – it doesn't have to be hard to be this month!