I like finding patterns in things. I think i much prefer knitting a simple pattern to a complicated puzzle. I like collecting the same shells at a time, and all my flowers need to planted just so. I need patterns – the consistency, the ease, and the fulfilled expectation. I don't think it's because i need order, or that it's a trauma response. I think it's more that my body finds pleasure and peace in it.
So i couldn't help but notice the pattern at play around the 3 Pillars of Self-Compassion that are mirrored with the 3 main stages of trauma healing work. Am i grabbing at straws? Maybe. But it still works. Let me explain:
Judith Herman introduced us to the phased model for trauma resolution work in her book Trauma and Recovery. The number of stages (usually between 3-5) vary based on the therapy modality and therapist. The three stages in a very basic summary are 1) Stabilization and Establishing a sense of Safety; 2) Reprocessing the Trauma and 3) Integration and Reconnection.
"Transformation doesn't happen in a linear way, at least not one we can always track. It happens in cycles, convergences, explosions. If we release the framework of failure, we can realize that we are in iterative cycles, and we can keep asking ourselves — how do I learn from this?"

adreinne maree brown
The stages are less steps in a linear order and more a dance of back and forth pattern to see what is needed and repeat. When we build our capacity, and don't feel dysregulated by new events, we have healed old trauma. This is what self-regulation and knowing your window of tolerance or capacity is.
The healing journey as similar to climbing a mountain. It's not that different from the hero's journey concept from Joseph Campbell. It takes time, perseverance, and effort. It also takes a commitment to keep going, even when also needing to pause and rest, so that we feel resourced so that we can keep going. The heroic part is not experiencing and surviving the trauma itself, but rather going back in time and healing it, so that we come out of the experience having integrated all our parts.
Staci Haines shares that we know we are healed after trauma when we have a felt sense of safety, belonging and dignity. This is also very similar to accomplishing a hero's journey.
The book Journey Through Trauma shares a more in-depth 5-phase cycle of healing repeated trauma. It's by Gretchen Schmelzer and it's one of my favourite books on this topic. It looks to stabilization and preparation first in a trauma-informed way to help people build their resources. This is an act of kindness.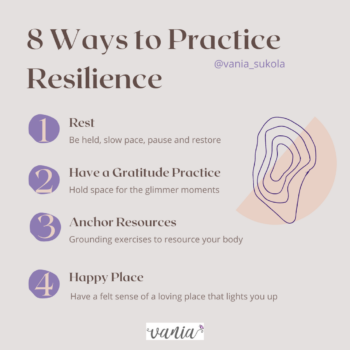 Self-Kindness is Stage One: Stabilization
Stage One of trauma therapy is about learning new resources to help stabilize you before you embark on the inner and deeper work. It's what is necessary to establish trust in our body and from our various parts. This kindness equals safety and stability because we learn emotion regulation resources that help us get to safety. We also learn more about the body and how to attune to its response. This is the time we build awareness about what resources work for us.
This might sound more akin to mindfulness – but in order to do something mindfully, we need first to understand what works for us. We also need to treat our SELF like a friend, to give our self-compassion. So, the first step is to know what are some kind acts of self-compassion.
We need to figure out what you want moving forward because this builds capacity for safety and agency. It is about going beyond meeting our foundational basic needs to decrease stress in body (sleep, nutrition, safe home, financial security) to build capacity. Ultimately, this helps us learn how to manage a bigger range of emotions.
This relates to stage one of healing because it is the preparation stage is entirely about attending to safety – building necessary skills and collecting resources both external and internal ones. It's also about establishing meaningful activities to help balance the work of healing with the experience of joy.
Establishing trust is one of the first tasks of trauma therapy, both internally and also with someone else. If the trauma we are healing from is relational, a breech in connection and attachment needs to be repaired. Unless it does, it continues to get in the way of a felt sense of safety as it relates to connection.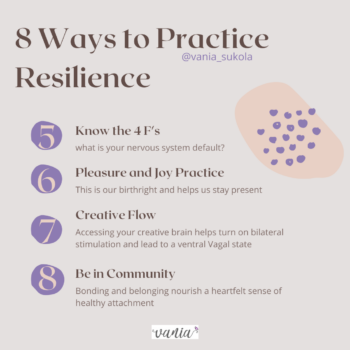 Mindfulness and Reprocessing
This stage needs to be embodied to be transformed. We need to grieve what happened and also what didn't get to happen because the trauma experience got in the way. We can't think our way through it, only feel. The story of trauma doesn't get stored just in our brain and memory processing centre, but also our body. It's in our bones, our fascia, and hormones. The body has built-in systems to help us feel more present and scan for joy, not just threat. The Reticular Activating System is a set of neurons in the brain, used to bring on a glimmer moment. It helps to intentionally look for something good or soothing. This system is responsible for our wakefulness, our ability to focus, our fight-flight response, and how we ultimately perceive the world.
Mindfulness is recognizing what i need in a given moment and acting upon it. It is about listening to myself (interoception) and trusting it. It is about healing the parts that felt ignored and minimized for so long. You know the ones, they might say "i don't want to go out tonight because it's too much for me" or "I think i need to ask for a friend to come home with me to help me feel safe after the bar."
The impact of trauma varies, and one way to assess the impact is to think of the ABC of trauma – the affect, behaviour, and cognition attached to it). Some common emotional responses are shame, sadness, fear, hopelessness and grief. We then may withdraw or avoid others and life generally, isolate ourselves or self-harm. We carry limited beliefs about ourself and have a negative view of possible healing. Mindfulness helps us start to notice what are our own ABCs and how they have become our preferred story, even whilst limiting us.
This middle stage is about helping folks start to track their symptoms and have a more mindful attunement and understanding of why they're nervous system does what it does. These resources and examples expand our Window of Tolerance and help us remember and grieve, as well as piece the together story. This is key as it this means going back and re-authoring a hard story; speak them outloud in a safe new environment, and can be just a part of the story; we heal the part that may be stuck or stored. In THIS artcile, Staci Haine shares some helpful strategies to do just this. She offers individual practices to help build an embodied sense of resilience as well as more community-based ways to stay connected. Both are key and necessary to help heal trauma.
"Clients experience grief after every therapeutic gain. Grief is the Bridge between past, present and future."~Onno van der Hart
Integration and Common Humanity
The last stage is about helping folks integrate all their parts into one as opposed to having a fragmented parts. It's both a common humanity of an internal family system as well as being able to re-emerge after trauma and being part of community in right relationship. Group work is really great here as is volunteering as it highlights that stage of post traumatic growth.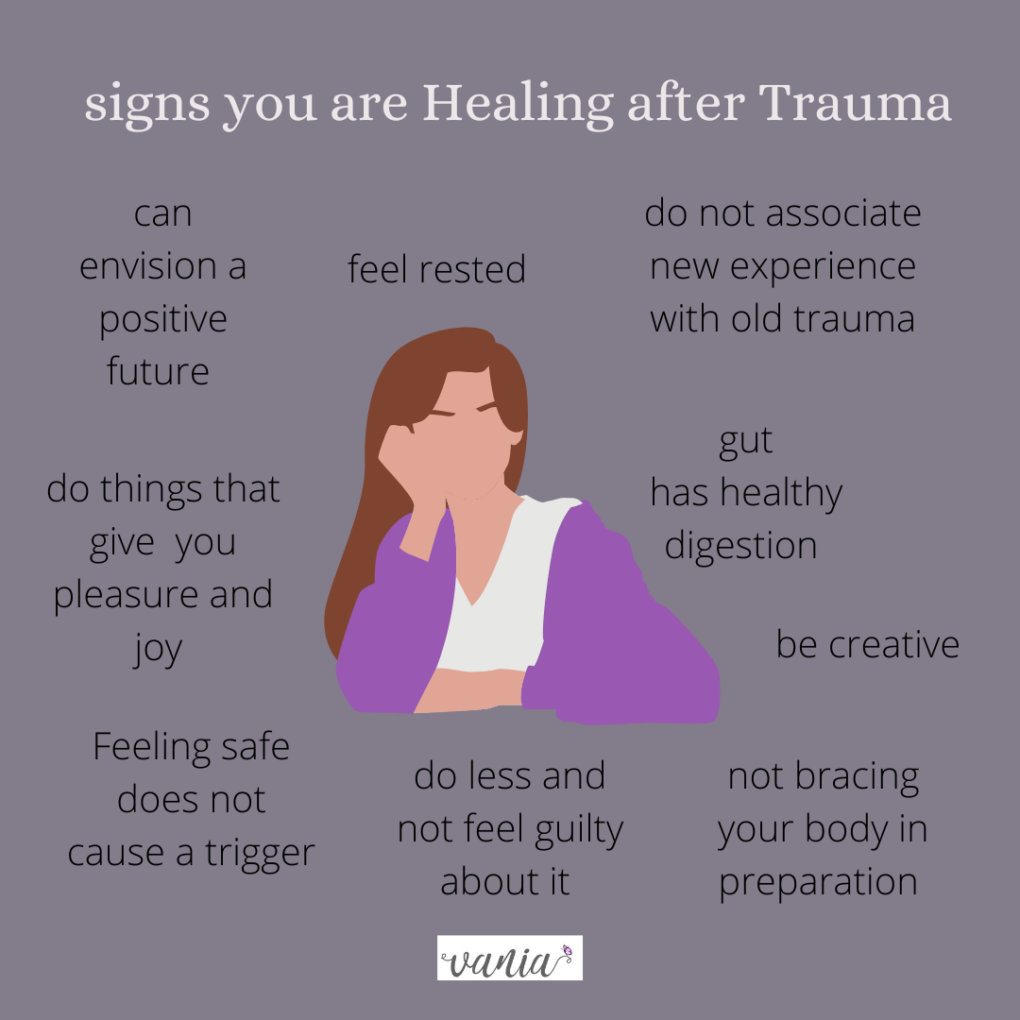 Common Humanity is starting to come out of our trauma cave to see our full self, and being able to see other's stories as similar. It is also a great complement to the stage of post-traumatic growth. Some examples of it are narrative justice writing groups, taking self-defense or wen-do classes, building new relationships. We have a new self-identity and integrated the trauma part into it. The trauma experience happened TO you so doesn't get to define you. Who are you after trauma matters. This is where we create new healthy relationships and have more access to dreams and capacity
Reconnection and future possible templates with hope and joy, safety and connection happen in this stage. That's why i wish clients stayed the course until this phase. Many clients stop after stage 2 because they feel better generally. It's not unlike we we stop taking the prescribed medication prematurely.
One of the goals of trauma resolution work and integration is to change our affect. Looking for joy and being present is a way to move past trauma and find new life in our journey now. We need to bring in a sense of hope and resilience, as well as less fear. As social creatures, we seek support and thrive with connection. When we have a more attuned self-concept, we can shift from a negative self-image and see our worth more fully; we move from a limiting belief like "it was my fault" to "I am okay and what happened to me is not my doing."
We are more than the trauma that happens to us.
We are the heroine in our own story.
Of course, as humans in a messy and imperfect world, we will still experience new trauma. So the work is to make sure we have resources that work so we can tend to our woundedness.
Let me take it a step further and also notice the connection between 3 types of self – physical, emotional and spiritual and how they tie in to mind body soul, or even the triple goddess. Or maybe i should wait for another post…but you see the parallels here too, right?