"What must I give more death to today, in order to generate more life? What do I know should die, but am hesitant to allow to do so? What must die in me in order for me to love? What not-beauty do I fear? Of what use is the power of the not-beautiful to me today? What should die today? What should live? What life am I afraid to give birth to? If not now, when?" ~ Clarissa Pinkola Estes
This is the ending and a new beginning: a death and new version of me. This is the end of my life with a mother of my own. This is me entering a new phase of life self-mothering myself more intentionally.
A Rite of Passage has three distinct stages – separation, transition and integration. In the story of my loss, i went through the separation and then a transition time. Now, i am in a new stage now as I integrate and incorporate the loss of my mom into my life. I think i didn't experience what others have access to, namely because my mom didn't want a funeral. This rite of passage wasn't marked and it wasn't witnessed in the way that needs to be. These markings are for the grievers, as a path to help them be held in their grief, and to know it leads to something else. There needs to be another side to grief, a threshold as opposed a place that feels stuck in a web.
I've been finding my Lost Self again; This is some of the soul work i've been doing. It's been an intentional practice of checking in with my soul self, and asking her what she needs. I think i lost her for a while, years ago. When Prairie posted a reel about this concept on Instagram, my soul jumped in excitement. It so desperately wanted me to notice this was what i too have been feeling.
We banish in ourselves what we want and then resent other people for doing just that. This resentment is connected to jealousy, not anger. It is a messy reminder of what we also have wanted for ourselves but are afraid to ask. What is it you want? I appreciate Brené Brown's reframe on resentment: Instead of seeing resentment as a form of anger, it is more helpful and accurate to see it as something someone has they were wanting for ourself. And yet on the other side of it I think it's also this balance of making sure I live my life more fully in a way that my mom never could.
When i became a mom, i went full steam ahead into that identity. I didn't know another way to enter this new phase of life. I started to notice jealousy or even resentment towards other mom friends who had a more full life. It was only when i noticed this pattern come up that i realized it is because i wanted this for me as well. It's been a journey back to me and all of me these last few years. It's been an intentional practice of soul work, where i'm re-connecting with the various aspects of what makes us whole as humans. For many of us, it is our soul self that has been lost, or kept in the shadows. If this concept resonates with you, read this article to get a better sense of how to practice it for you.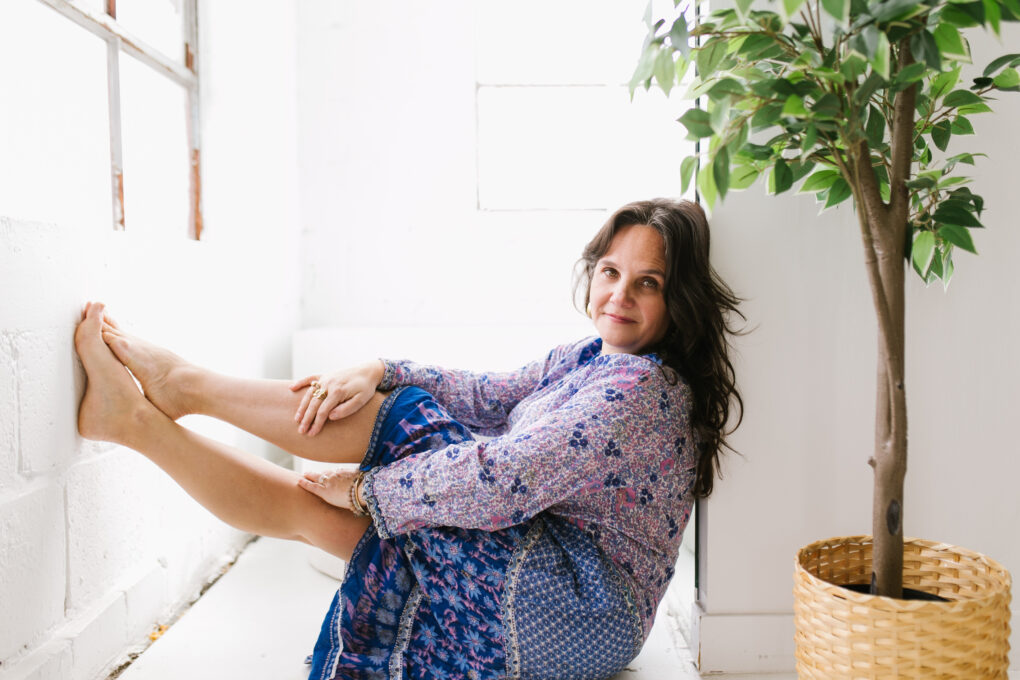 One way i did this soul work was to sign up for events that speak to my soul. This helps me do the work deliberately, as an apprentice to it (a term i learned from Francis Weller). For instance, i recently attended a day workshop, a retreat for myself. It was absolutely the treat and reset I needed. With the name of it actually being TEND, I knew that I was in the right place. I joined a few other women who also can relate to this feeling of caring for so many others, that we also need to receive this tender, loving care. There was also a photo session experience, where i was able to fully embody parts of myself that i have lost, that have become lost along the way. It's been a cathartic practise to sit with the photos, and see my FULL self reflected in them.
Another way to dive into finding myself again is to reflect on where my heart has taken me. Jessie Harrold shared her concept of "Rites of the Heart" again recently. While the term is not new, when i saw it on her instagram page last week, it really resonated with me. These are the (not so) little things we do for ourselves that are on our own, in private but are just a meaningful. It can be quitting a job and starting a private practice, it can be starting a garden in your new home, or deciding to embrace your new sense of style. They are the change of heart that comes with deepening into our soul's calling. This shift then trickles down into our everyday life: I honour them with rituals like like a candle when i take a bath, or play a special song when i cook, make a cup of a special tea when i am feeling a need for a hug. I love this as it makes sacred the small things we do to give our soul vitamins, by making them rituals and intentions, instead of things we start to take for granted.
I have been really coming into my own with my sense of style. I have embraced (literally) the boho feminine goddess that has always been in me. This lost self is finally free and so happy to be. And, she's been seen in the best possible ways. Last week, a friendly stranger complimented my outfit and shared she's been an admirer of my style for some time. Not only was i touched, especially when she said she sees me and notices me – i am also now noticing that she voiced something i was missing with the loss of my mom: the admiration, the noticing of details, being a witness to how i adorn myself.
I don't want to lose that. This doesn't have to be a lost self.
I can incorporate (see what i did there???) ways to feel connected to my mom in my life now.
I have a mom still – her teachings and stories are within me. What i don't have now is the active involvement, guidance and love from her moving forward. And i have so many questions for her that i didn't get to ask – like how was menopause for her, or what are my great-grandmother's names? And i wont' be able to get her appreciation of my outfit, or share pride in our knitting. I won't get to say i'm sorry to her when i'll be in the throws of raising teens.
Ugh – i'm not sure how to be a mom without a mom; a mom to teens without my mom.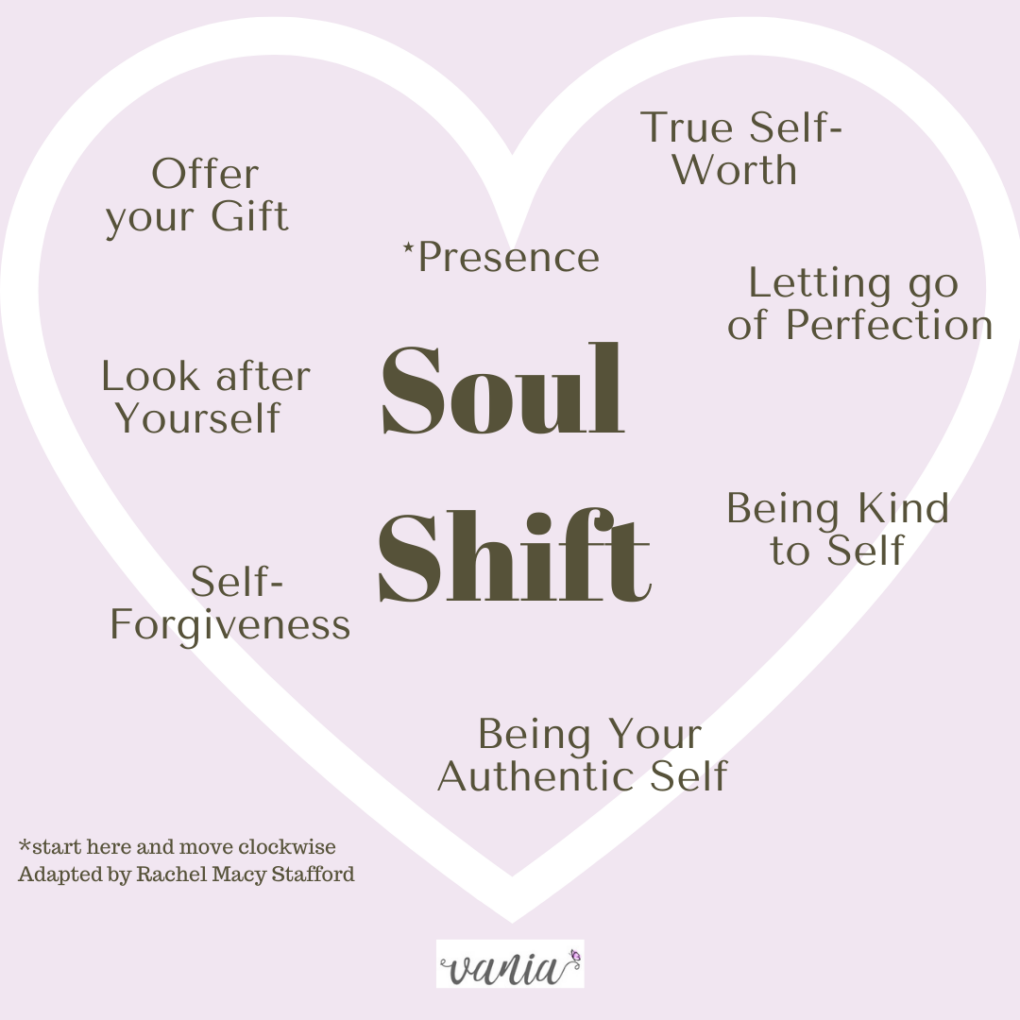 I have been reading a lot about this transition. Books are a way that i find anchor in a messy storm of life. They help me know i am not alone, and also act as a guide. One book that i just finished ways Rachel Macy Stafford's latest gift Soul Shift: The Weary Human's Guide to Getting Unstuck and Reclaiming your Path to Joy. In it, she breaks down into doable steps how to just do that – get unstuck and find your path to joy. I appreciate it has a step-by-step guide like a map. And yes, it includes the necessary involvement of soul work. THIS article does a great job in unpacking the book.
I also have been reading Women who Run with the Wolves for the third time. It's my bible, really and truly. I read it every Sunday evening, and especially when i take a ritual bath. It's the first time since becoming a mother, and also in this transition phase I'm in. One thing that's been amazing isn't that I've been really resonated with this book because I have, but actually the things that I underlined over 25 years ago that are still resonating now. And when i read it now, i have both the capacity and place in my life to make sense of the words and guidance the book shares.
Another lost self of mine is one that chooses pleasure and treating myself to things that i enjoy. My mom didn't always model that. Recently, I saw a woman going to a movie. It looked like she was there by herself and yet she was there to enjoy a movie. This is something my mom never did. Outings were not something she prioritized, whether it's watching movies or going out to restaurants on a regular basis, or having date night with her husband. She claimed it was because she didn't need to or want to, but i never truly believed that. Mind you, she did other things that were more home-based like painting, reading, and watching shows. And yet I'm not sure if I'm seeing her through the lens of my life (where I feel like that is lonely) when in fact, maybe it's exactly what she wanted, and she's a homebody or introvert. I will never get to know this now.
A part of me wants to create a version that helps me feel better towards the life she had. And yet another part feels more sure that my mom was a product of patriarchal motherhood that idealizes martyrdom. She didn't know how to live her own life without being on the periphery of her family's. She didn't know how to do it because most moms didn't back then. And if they did have their own life, they were shamed and judged for it; or worse, banished by the other moms who couldn't fathom that for themselves.
If you are feeling lost, you are not alone. Life is full of transition, curve balls, and changes of the heart. Each need to go through a process in order to be integrated into our life. That can be after a break-up, adapting to life again after the pandemic, or maybe you are in a messy change of heart with your career path. If any of these is the case, start with where you are at – find your presence in the here and now moment. Orient to your surroundings, ground into your body, and from this place ask yourself these questions: 1) What is your want right now? 2) What did your 8-year old self dream for you? 3) What makes your mind body soul smile and relax? These prompts may be just the right dose of inspiration. If not, maybe one of these articles can serve as a starting point.
* How to Find Yourself Again
* 7 Tips to Help Find You When You're Feeling Lost
* My Dream for Women
"[T]o be ourselves causes us to be exiled by many others, and yet to comply with what others want causes us to be exiled from ourselves. It is a tormenting tension and it must be borne, but the choice is clear." ~ Dr. Clarissa Pinkola Estes