I walked by 2 robins this morning on my way to work. And it seems like it was overnight that crocuses (is that the plural form?) started to sprout out of the Earth. It gave me pause to notice that Spring is here, even if in baby steps.
Speaking of baby steps, i shared a vulnerable post for my last blog entry and am so moved by all the wonderful feedback and support i received. My daughter has since turned 5. We tell her birth story each year on her birthday, and this year it seemed to mean more to her. Things are starting to take shape in her memories and the women who have been my village have now also become hers.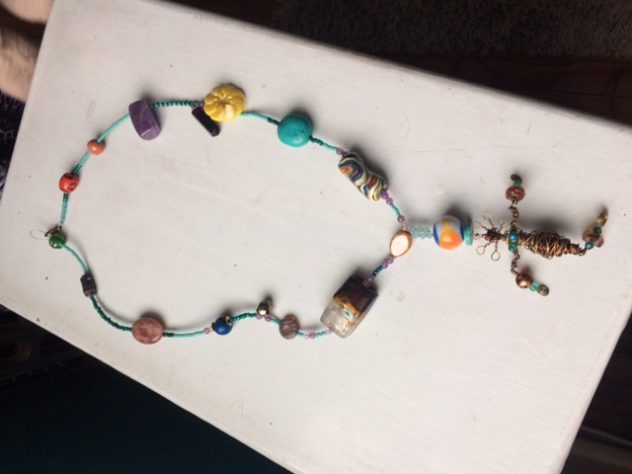 About a month before she came Earth-side, i had wanted to have a ceremony for myself. I know it's not usually the pregnant one who hosts her own shower, but i didn't want a traditional baby shower this time around. I had already had one with my first child and really treasured it. But as i didn't need more stuff, i wanted to be able to honour the pregnancy, labour and birth in a more spiritual and holistic way.
So, after doing some research (like reading this helpful book), i asked a lovely friend and community organizer to help me. She offered her home as host. With a circle of about 10 women we danced, we ate, we chatted, and they made this beautiful Blessing Necklace for me. I wore it during the final days of my pregnancy, and i had it close by during the labour and birth. It still holds space for me by my desk. The necklace is made of special beads that each friend brought – buttons from their own grandma, crystals that bear meaning, and beads that bring joy.
I'm sharing this part of my own birth story as a way to remind us that we have a choice in how we honour our birth stories, right from when we become pregnant to after we bring our baby Earth-side. If you don't want to do a baby shower, don't; if you don't want to cover your belly in a belly cast, don't. But if you want to dance and have a foot bath in rose petals – the world is your oyster. Having choice in your story allows you to feel more present in the birth and postpartum.