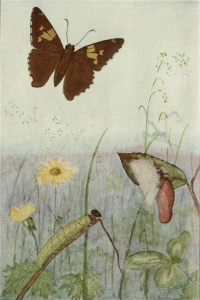 "Perhaps the butterfly is proof that you can go through a great deal of darkness and still become something beautiful"
I'm not sure who the source to that quote is but i love it. And, i love butterflies. Not just because part of my name stems from the word butterfly, nor because they are pretty and whimsical – though both are true. But, rather, they are a perfect symbol of resiliency, vulnerability and exquisite risk.
I recently updated my logo to connect to this path that women take when finding themselves, re-finding themselves, and taking time to take care of themselves. The butterfly is you, and it's perched on my name, as i feel like i am here to hold space for you while you are on this journey to heal. I act as a tool to help ground you, but really believe that you are doing the work yourself to heal, connect, move forward, and take risks. I am so honoured to be a part of this journey with you.

I like that the butterfly is perched and yet still in flight. Like she is ready to take off when needed, and to hold the power of her own safety and path. Very symbolic as it connects to our journeys in healing and being in therapy. It's not by chance that i landed on this butterfly image. I had lovely and long chats with my pal who is a creative designer to get to this place that feels like it speaks to the work i do.
A few years ago, i attended a training on post-traumatic growth and resiliency. The presenter is a social worker from the States who shared more about the steps we take in order to heal and hopefully reach resiliency. She spoke of the butterfly's journey from caterpillar to chrysalis to butterfly. To think of how such a fragile and yet strong creature can show such strength and resiliency!
Recently, Tara Brach posted a great podcast where she spoke about the exquisite risk people take when actively engaging in their vulnerability. I loved how she too connected the narrative of a butterfly and the path they take. She goes further to say it's actually arrested development when we don't take these risks in being vulnerable. Take a listen when you have a moment.
I'm starting to see the Spring moths and butterflies dance by me as i'm outdoors. I love to take a pause in what i'm doing to say hello and thank them for their trust in the world. I know that may sound cheesy, but their greeting is also a chance for me to slow down, take stock in my day, and to honour my own journey too.
Next time you see a butterfly, say hello!
(image above by From a drawing by W. I. Beecroft: THE SILVER-SPOTTED SKIPPER)