I have worked in the Violence against Women Sector all of my career. Fresh out of university, i jumped into work in various shelters and helplines, both in my own city, as well as in India and Kazahkstan. It is something that i am very passionate about: My identity as a therapist is very connected to the part of me that is a VAW (violence against women) Counsellor, and has been for the past 22 years.
In my new role as a private practice therapist, I work predominantly with various types of trauma, especially with people who have experienced relational trauma as well as developmental trauma from their childhoods. While abuse from relationships is just one type of trauma, it is one that has lasting impact and yet we can still heal from it.
I share this history into my work past as it holds weight for what I know – abuse is still prevalent in our homes and is even more intense now because of the Covid19 pandemic. The pandemic is a 'perfect storm' that intensifies this type of trauma for both adults and children alike.
I also know that abuse isn't just directed to women from men, and I appreciate the more inclusive language of 'gender-based violence' as it takes many forms, including intimate partner violence of people from all genders. And yet, it is without question mainly women that experience this type of abuse, by their male partners.
Why? Because of the need for Power and Control. That is also very steeped in male privilege, patriarchy, misogyny and gender-based violence. Men who use violence are also victims of our sexist society that views vulnerability as weakness, imperfection as a demerit, crying as a fault, and the old boys club status to aspire to.
During the pandemic, the pull for power and control is even more amplified because so many of us feel out of control, and that leads to internalized feelings like guilt, shame, fear or insecurity. Loss of work impacts our sense of status and contribution, it also makes us question or worth as we are taught to be productive at all costs. That internalized felt sense needs an output and for many of us, we were not taught how to expel anger, fear and sadness.
Then we lash out to get the feelings out and to feel in control again, even if that means we are not controlling others or displaying power OVER someone instead of power within.
I also know that people who use violence are not just the perpetrator but most likely have lived through their own story of abuse and trauma from their past or childhood. Some of the responsibility in this consequence of the pandemic lies not just on interpersonal relationships but at the systems that perpetuate them. Funding for shelters and helplines have been drastically cut, and people are isolated from each other and cannot access help.
No one deserves to be hurt no matter what.
One of the first tools I learned when i school to be a Feminist Therapist was the Power and Control Wheel, originally created in Wisconsin at the Duluth Centre. It helps create a visual image of the various ways that abuse is perpetuated. Since its original example, many others have been created to show reference to inclusivity and intersectionality. In all of them, they show how power and control are at the centre. They also depict the various forms of violence, especially ones that are more covert and therefore less likely to be noticed. This tool may be hard for some to read, and please note it's used for educational reasons, to help others see what types of abuse exist. The impact on the person who is being abused is unique to each person and will be the focus of another article soon.
I'm not sure if the folx at the Centre have created a wheel for the pandemic: As no one today has ever lived through a global event like this, I wanted to share how abuse can be started or escalated during a pandemic. The wheel looks at interpersonal violence, so it's important to note that there is a larger societal role that is steeps in how our community and global society continue to perpetuate Power and Control (stay tuned for another journal article soon on this).
In following the original model, we can assume most people have a general sense of Physical and Sexual Violence – for the most part they are easier to see or detect, and are a criminal offence. And yet there are other more covert or implicit types of violence as well. In keeping with the Wheel, I have broken them down here. This pandemic also alters the types of violence used, even physical and sexual examples. Please note that this list is not exhaustive, as there are unfortunately other examples as well. It is also a draft as more research and sharing of experiences is just being collected. Some of these examples are from the people i support first-hand.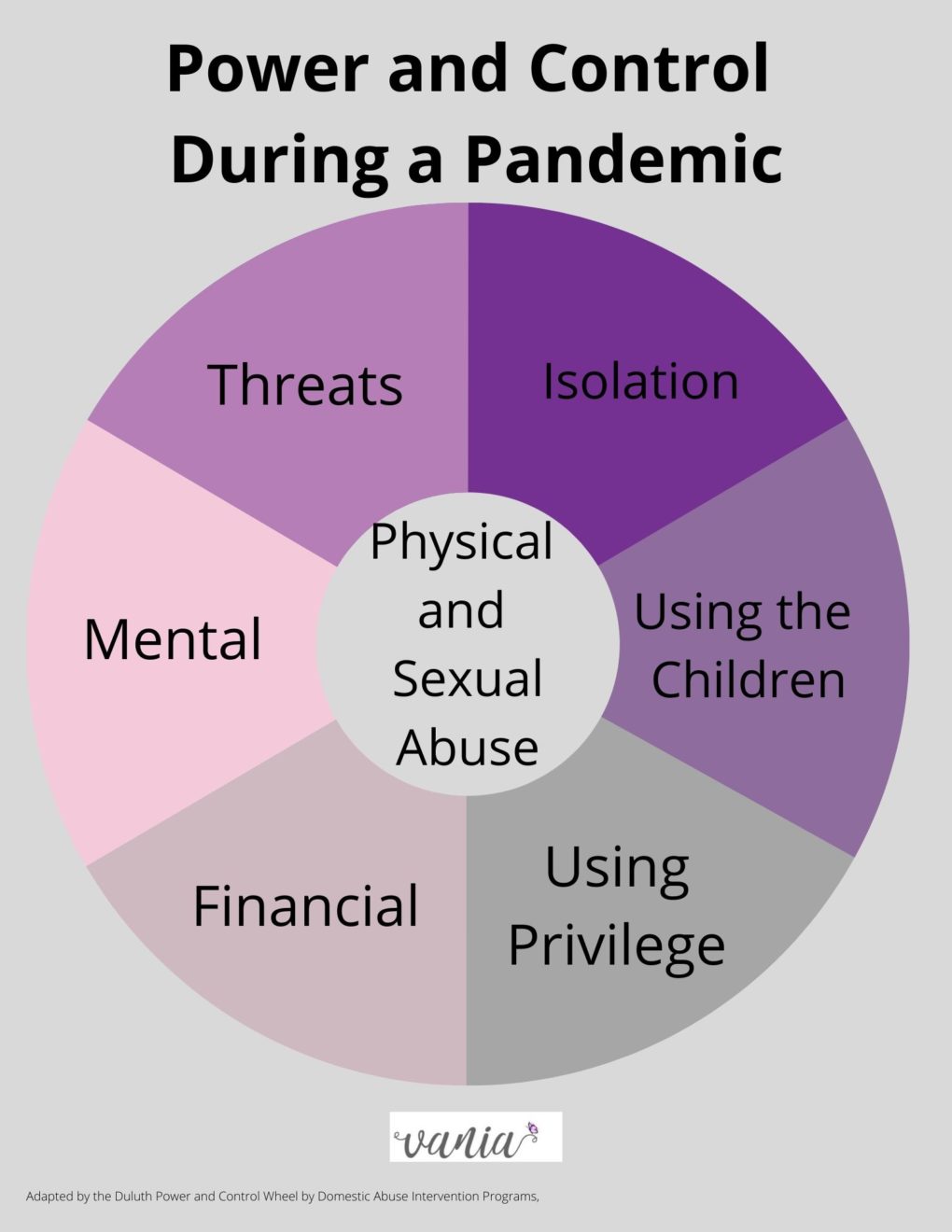 Physical Abuse
Hitting, slapping, pulling hair, pushing; all mainly focused below the face as it is the only visual cue to others if the person is using video conferencing for work or social calls.
Sexual Violence
Forced sexual acts against consent; kissing and other forms of touch without consent or use of
health and safety precautions; being coerced or pressured for sexual acts because they are claiming to risk their health to come for a visit or are lonely and need to feel connected; not disclosing health concerns to sexual partner; having more than one sexual partner without disclosure; pressure to do sexually things virtually that makes person uncomfortable
Financial Abuse
Making the person take a leave from work and collect CERB or another social welfare program as it keeps them at home all the time; not allowing them access to funds – whether cannot go to bank machine due to pandemic or not sharing funds directly; Threaten to report person to take department or social welfare office to intimidate them; this is a form of financial abuse, threats, as well as privilege because it is used as a form of power if they are not using the same sources of income; not allow partner to share planning budget, paying bills, and otherwise knowing what the household income is; controlling what is bought for the home including groceries when only one partner leaves the home; quitting work themselves without consulting partner and relying on them for financial support
Threats
Using intimidation or threats to keep the person at home and not socializing, even via social media; threatening to tell authorities if person breaks 'physical distancing' rule; threaten to leave them or hurt themselves if partner leaves; intimidation to be violent with words or actions; breaks belongings or threatens to take things important to them; threats or hurts pet; partners may not live together and one uses power to pressure the other to visit even if they do not feel safe due to health and safety cautions.
Impact on Children
When abuse starts or escalates at home with children, they witness it even if they do no see it directly; can also increase incidents of child abuse due to stress at home and misdirected anger; using children in between former partners during exchange or access visits; telling ex-partner they cannot see children due to fear of getting virus; not allowing partner's children from other person to visit or stay with them; involving children to be messenger of info
Emotional/Mental Abuse
Being at home with the person who uses violence is very stressful – there is no break and tensions can rise; conflict or stress can escalate and the perpetrator may be more diligent and hurtful in their language, put-downs on food preparation, demands on time, name-calling or derogatory and mean words. They may minimize their actions (called gaslighting); blame the person for the abuse or being stuck at home; claiming safety concerns to justify behaviour; minimizing the threat of the virus and using conspiracy theories to pressure partner to go out when they feel anxious to; not asking them how they are and providing support and only focusing on positive feelings
Isolation
During a pandemic when we are to stay in our homes is isolating enough; people who use violence can use this to not allow their partner to contact friends or family by phone or video; pressure them to not go out in the community; jealousy and control that leads to partner not wanting to go out; do all the social outings like groceries, etc which keeps the person stuck at home and not able to ask for help; ghosting their partner during Covid19
Using Privilege
Treats partner like a servant and makes all the decisions regarding the household alone; other forms of privilege include threatening to out the person if they are LGBTQI2S and want to leave partner, or having white privilege and is not a target in the community, or citizenship privilege and can access supports that someone who doesn't have status can't; able-bodied privilege where they do not understand the further impact on someone who needs physical support and their care workers cannot do home visits during pandemic.
There have been some great initiatives that have started during this pandemic to help support people who have experiencing this in their homes. If you are someone, or know someone who needs support or to learn about safety plans, please be mindful when doing searches online. Reach out for help, as you are not alone and deserve better.