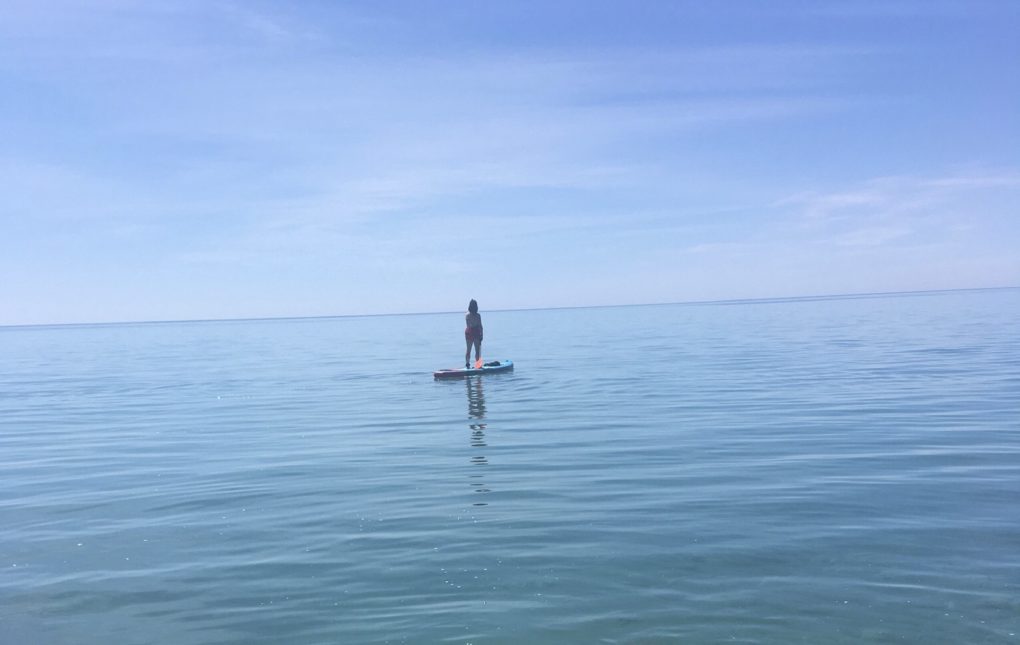 Today marks the End of vacation mode for me. We were supposed to go to France the first 2 weeks of summer vacation, in honour of 20 years together with my partner. It was to be the first major trip for our family and the honeymoon I never had. While that's not what ended up happening (thanks Covid!), we did a get an extended cottage break outside the city.
I'm not ready to go back to the city just yet. We've been away for close to 2 weeks and it's been the break we all needed. It's not France by any means and yet it was the remedy for some hard months.
Here are some of the things i will hold on to:
I swam daily, sometimes more than 3 separate times
I paddleboarded quite a bit and saw the bottom of the lake
I read 3 books while here and am onto book 4, #12 since the pandemic started
I found an abundance of new heart rocks to add to my collection
I saw my parents for the first time since February
I was creative – I sewed, played with clay, and knit a new summer sweater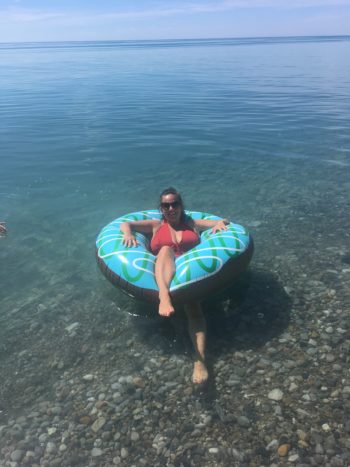 I slept with my children, as we played musical beds as we would on a vacation
I had mindful moments watching butterflies 🦋
We had family time – in the water, which has always been our salvation, video games and we watched the whole first season of the new The Babysitters Club show
I lead my kids through some witchy classes to give them some routine
I saw the full moon and said hello to the stars most night
I sat in my beloved Donut Donut
That may sound like perfection, or at least an easy vacation. But of course, travel with kids is never that. Anywhere you go, life gets in the way.
Of course this time away wasn't perfect and there are things I'm sad I never got to do. Maybe my expectations weren't realistic, and some things were out of my control.
So….to keep it real:
Our yard in Toronto is a small square and we have so much green space here but we never went for walks in the forest.
I only did yoga once and only then because my back hurt too much so it was more for necessity
I never slept well until the last night
I didn't journal once
My kids still had epic fights and there was some family yelling
I made a huge mistake in the romper I wanted to sew
My parents only stayed for a quick visit even though this is their space
We didn't play any board games as a family, and we brought several from home
And I only read in the hammock once, because my kids needed me more and this time away was about attuning to each other.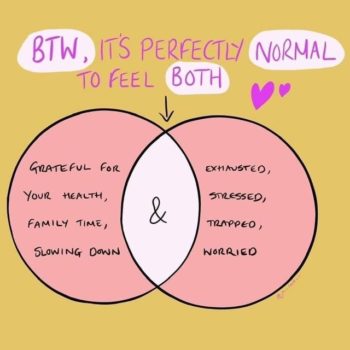 I share both sides because we are prone to compare ourselves to others, making our side the deficit. I know I'm incredibly privileged to have access to an oasis during a heatwave. And ever, for that matter. I also know that I wasn't able to truly relax into it. I worked still and so did my partner, still had to manage the kids needs, and the dishes were never ending.
One thing i noticed only in retrospect is that some of my expectations were of times past. So while realistic as a teen or twenty-something, now with young children of my own, going to the cottage means something else. I can definitely swim and read, but not for the hours of end i grew up doing. No wonder i was a bit disappointed – my expectation was just out of the realm of realistic.
This is every day life after all, pandemic or not. Vacations are just as imperfectly perfect as every day life and they don't escape the "full catastrophe" of living.
My son is having a hard time holding on to any good moments. We review each day at bedtime, helping him notice that there were moments in the day that were good, even during a pandemic whhen his life was thrown upside down. I'm not suggesting to avoid the hard feelings, as I'm not a positivity cheerleader. And yet, when we can hold space for BOTH/AND experiences in our body, we allow more space for good feelings. This is Titration and helps heal us when we are going through hard things. It makes it easier to go through it when i know i can also feel good in a day, even for a few moments.
So, instead of focusing on the hard part of life, it helps to notice moments of joy. Our bodies can relax and get a handle on the hard. In a few weeks' time, when I'm feeling overwhelmed, I'm going to recall this time away. I'm going to sit and breathe in the sounds of the birds chirping, or the cool lake water on my feet, or the grass under me when i read a book. This intentional practice will let me body relax and sigh out a bit more.
I am a bit nervous about regular life as this summer looks so different than usual. So when i need a boost of joy, i will feel the sun on my body, some shared giggles and slowing down these past two weeks: I'm as ready as I'll ever be.