"Until you make the unconscious conscious it will direct your life and you will call it fate" Carl Jung
I like a good podcast to keep me company. I don't always like to listen to them when i walk home after work: I like to immerse myself in the walk and the quiet. And yet, i was pulled to have company on a few walks recently. So, podcasts were a great solution. And guess what, they gave me both company and pause.
For instance, on Glennon Doyle's recent podcast episode on her wonderful program We Can Do Hard Things, she had Dr. Becky on a two-part episode. They talked about parenting in modern times and the struggle to be present parents. And yea! They talked about IFS.
There were some nuggets in there for sure. As an attachment-based trauma therapist, a lot of what she shared was not new to me. And yet the timing in my own life is pretty serendipitous.
Here are some quotes i got straight from the source:
– "It's the child job to have feelings and it's my job to guide them to be able to have a way to process through them"
– "I need to embody my authority and boundary AND honour my child feelings"
– "We can't learn to regulate feelings you don't allow yourself to have"
– "We react most to who and what provokes our earliest attachments"
So this felt really relevant to me. I definitely have witnessed and experienced for myself that we look to shutdown in others what was shutdown in us: It is just too much for us to bear. It's partly because we are triggered by our children in areas that not finished in our story. What doesn't get healed and integrated in ourself can manifest into anxiety. And as Dr. Becky reminds us "anxiety is a symptom of what you want to do right or new but it old wiring and need to update the circuits."
Um…yup yup yup.
In my recent therapy session, my own therapist reminded me to track what is my story and what is about my daughter directly. This was not a new idea to me: I've been noticing that this ending and beginning interplay between us has been quite present over the years. I have learned to say to myself "what is mine and what is not mine." It's a way of helping me discern where my own story ends and my daughter's may begin, especially if there is overlap.
Lately, there has been a lot of overlap.
Some of it goes further back and i am also noticing what my mom's story was.
It's important to have this distinction because it helps to know what is within my control and worth tending to. It also gives me some agency to know what is worth my energy or when i might be transferring my own needs and experience onto my daughter.
For instance, i shared last month how my daughter is again facing a year at school where she is separated from her friends. I know this is a common experience, and yet it angers me that it still continues to be so. I wish that more consideration went into what we know now about children's self-esteem and attachment theory.
I know what it's like to be alone, separated from friends and not having a felt sense of belonging. Having a community is essential to help us grow into more actualized adults. It also can help buffer us from further pain related to relationships. When we have a good foundation, it gives us a healthier perspective on relationships and life in general.
Let's not forget we are social creatures, wired for connection.
My mom did not have a big community when i was growing up. She had a few friends and spoke to our neighbours. My parents came to Canada during a mass immigration, but before the diaspora due to the war in what was Yugoslavia. She didn't belong to a community, even though she supported family to come after her. I saw her try – with exercise classes, Spanish lessons, and talking to other dance moms. She was shy and quiet, mainly due to feeling insecure about her strong accent and a deep distrust of sharing herself with others. So that meant that i didn't really see her socialize and have friends. It was rare for her go out in the evenings with a friend. More rare, or in fact never happened, was a weekend event outside the home.
Now, as an adult, i am catching myself comparing myself to my mom. I see one of the hardest struggles she endured was loneliness and a deep aloneness in her experience. She turned to me to be her confidant and emotional support. Even at 15 years old, i knew my place was to hold other people's needs. It's no surprise that i chose to be a psychotherapist, holding space for other's feelings and narratives.
In my personal life, I make an intentional point to make plans with friends. This is important modeling for my kids. I want them to see not just that i value community but that having a felt sense of belonging establishes a healthy self regard for ourselves. It is also tied to feeling joy and pleasure in our life. I am grateful for a dinner out with friends or being able to start hosting them again in my home.
And yet, these past few months have been more lonely and alone than i ever would have expected. And that comes on the heels of a pandemic, rather than at its peak most isolating period.
So, when my daughter learned that she was not in the same class as her friends, i couldn't help but put myself in her shoes. We are the same size so i actually worry i put her in my shoes.
My trauma is not my daughter's trauma
My mom's needs are not mine
Relational and attachment wounds start in childhood, mainly due to an insecure attachment to a primary caregiver. They can also arise later in life, due to an unhealthy relationship with an intimate partner or toxic friendship. They are a type of trauma. Being separated from friends in school can be a "small t" trauma itself. We feel so alone in the classroom, it feels like noone has our back and it is us against the world.
Here is the distinction though: not all events lead to trauma. What may be impacted by one person as trauma, another person who experiences the same thing may not be traumatized. In The Body Keeps the Score, countless stories remind us of this truth. It is not just that they are more resilient, but rather they were not alone in their experience and had a space to unpack their feelings. Peter Levine shares that one reason that trauma gets stored in the body is because we are alone in experiencing it and no one was there to help hold the story for us.
In the book What Happened to You, the authors shared their concept of the Three E's of Trauma: Event Experience Effect. All three need to be reviewed to get a sense if the person is experiencing trauma as a response to an event.
This knowledge of trauma healing work gives a better backdrop to a family's trauma cycle: the generational experience and patterns that may lead to intergenerational trauma.
Did you know that the egg that made you was first embedded in your grandmother? So her life experience can carry into your own cells. This includes legacy burdens.
"Only with heightened coping skills will we be able to rise above our shell shock and be who we want to be. All of us have the capacity to do this, and when we do, we will increase our own happiness and be of greater service to those around us." Mary Pipher, Reviving Ophelia
Break the Cycle
I've been thinking a lot about epigenetics and the impact of intergenerational trauma. I have been tracking what ages of my children have been harder for me, not just as their mom but also as it brings up triggers of my own experience. At times, it shows me the scars of my unresolved traumas are being cut open again.
There are some things are definitely mine: The pandemic, my own birth trauma, i left home at 16 and i am the only mother in my extended family who also works outside the home (to name a few examples). And there are other things that are in my mom's backpack baggage: Driving is hard, dating as a wife and romance was not visible, she left home country at 20 and had no family support.
How do these very different experiences impact us? One way we are impacted by intergenerational trauma and attachment wounds is our self-esteem. We witness our mothers and how they care for and see themselves. That modelling gets passed down to us and we internalize how we think we need to think about ourselves.
Self-esteem is the internal understanding of our self-regard. It gets mixed in with confidence, but that is an externally based reflection, due to a focus on attributes, success and sought-after items. Take for example, my parents got me a car in high school. It helped me get to dance class and yet it was a hot commodity with my friends. My confidence was boosted by the popularity i received by owning my own car.
Our self-esteem is a lifelong journey. At times, it is tumultuous. Many of us were raised in an era where our self-esteem and worth were not at the forefront of parenting or child-related systems (i.e. school). Now we know better.
Girls' self-esteem peaks at age 8. In an era of social media and technology, i can't help but wonder if the age is even younger now. According to Richard Schwartz, who created Internal Family Systems, we are born with all our Parts. What changes their role is how our life is shaped between the ages of 0-11 years old.
My kids are 13 and 10. No pressure, mama.
I have not always caught what triggers me until after the fact. Case in point: my daughter's room. I thought i'd be that mom that didn't care about how messy a kid's bedroom got. For a while, i would just brush off the impact. At other times, i would go in and clean it up. Now, i barely go in there – and let's be clear, it's almost impossible to step foot on the actual floor. But i have to be mindful of what i say here – i am not a fan public shaming. Rather, my point is noticing with surprise, the impact my daughter's room has on me. I have learned it's a trauma response for me that is still unhealed, that makes it hard for me to accept the state of her room. I was never allowed to have a messy room. I internalized that in order for me to feel safe and calm, i needed a tidy space with everything where it belongs. For the sake of my nervous system, this helped me feel safe when i felt like i walked on eggshells at home.
Does that make me a permissive mom? Maybe. It also makes me a conscious, respectful and regulated mom who accepts what i cannot change.
Gretchen Smeltzer wrote in her book, Journey Through Trauma "the feeling of safety is an outcome, not an input, and trauma work. You create a safe environment in mind body spirit emotions and relationships and then you practice taking safety in."
We become our patterns especially when we are not aware of them. That is what gets repeated.
I had an out of body experience recently, looking at my life from the outside in. Going through my mom's things had real hon me how similar I have become to her. I have been so dreading becoming my mother for years. Her unhappiness, her endless craft works in progress, her lack of community. And lately I feel like I became her subconsciously, without realizing it. I noted that I don't have to repeat what had been broken.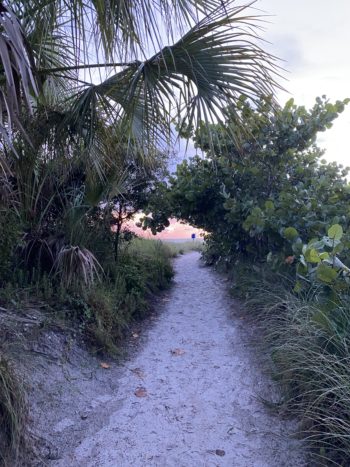 Coming out of the woods and back on our path is like healing from trauma. It is a hero's journey – what we do with our life after healing trauma. Judith Herman's theory of the 3 stages of trauma therapy really unpacks this process well. They mirror the journey of the hero, finally getting to integration.
Trauma is not just what happens to us, it's what was taken from us because the trauma got in the way of our development. It's also not having the support and resources we need to heal.
Trauma is a nervous system wound, and it is also a heart wound. "The ways it shapes and takes and changes us could be nothing less than heartbreak." Syanna Wand. So it is also grief work – grief of what could have been, and was taken from us and can never be.
Trauma resolution is moving from a trauma vortex that's designed to protect us from further harm to a more embodied place of pleasure and living life with full expression
Healing takes time and new wounds can happen, as new traumas can be had. What shifts is the dual awareness of what we need now, and what no longer is stored in us as a trauma vortex, but a more healed one.
So this is where I sit now – being able to notice where my story ends and my kids' begin. It's a way of stopping the intergenerational trauma from continuing on.
No pressure, mama.