you are already whole just like the moon, who is only going through stages
I've been going through a bit of a metamorphosis in my own life, as i have grappled with a decision to do what is best for me, versus something that may have been more aligned with an earlier version of me. I think my wings of transformation have been able to be fully opened now.
I recently made a big decision in my life, which is to fully embrace my private practice full-time. While it was something that i have been deliberating about for some time, i have been in the VAW (violence against women) field so long that it has shaped my identity as a therapist and human. After over 22 years, it is now time to accept this transition. It was hard to let go of this identity, as i jumped into it with all my being. It is also what has made me be the therapist i am today.
When i started my private practice in 2015, it was to complement my work as a gender-based violence counsellor. The work i did initially in my practice was supporting new parents, especially those that experienced a traumatic birth or were having a hard time integrating this new role of parent in their life. It was also a way to balance the hard, necessary and all-encompassing work as a VAW/gender-based violence counsellor.
As my two work hats started to blend over the years (because we cannot separate the intersections of parenthood, trauma, and past abuse), it gave me pause with where i wanted to go moving forward.
Covid and the pandemic has played a role in my decision. As a working mother, it is important for me to balance and have a rhythm that works for me. When schools, extra-curriculars and summer camps all shut down, i noticed the toll of working from home with my children home as well. I also noticed that i need more clear boundaries and self-care practices in order to be the mom and therapist (and friend and partner and daughter) i want to be. Let alone the woman for my own Self. Yes i was burning out, and yes i was not alone with this. And yes we deserve better. (In another post, i will speak to my anger with how this year has gone for us as working moms). I may be a therapist who knows about vicarious trauma, burn-out and self-care, and i am also a human experiencing a collective trauma with everyone else.
Welcome to the new me here: The trauma therapist
While working my decision to make this change, i sat with what kind of therapist i am, what kind of therapist i strive to be, and what makes a 'good therapist.' Last year, i shared my thoughts on what is important for therapy to work. You can read it here. Of course, as anything, what makes something good for one person is not necessarily true for others. And yet, there are some important factors to think about when you are looking at starting your path with a therapist.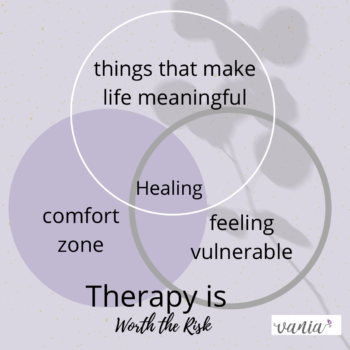 You have the right to shop around to find the fit that feels right. Book calls with a few therapists – if they don't offer this free consult, that itself is a sign. Read about what you need in therapy, like Annie Wright's article. What feels right may be different for each of us, but some things to consider are:
1) Relational
As a general rule, we need to have RAPPORT so that you feel safe enough to want to come back and share intimate things. Rapport is a bit of a vague term, so some things i look for are: using humor, a warm smile and nod, holding space and making room for all emotions and choices, being a compassionate witness to your pain – i really do care about you and have hope for your healing journey. I want you to live the life you love.
Building trust, respect, rapport and a safe container are probably the most important key ingredients for therapy to work. If we don't have trust, it is hard to go deeper. I can't promise to fix you or even have a fully safe space, but i do work from a relational place and am honoured when you choose to get support from me. Trust is earned and respect is something we all deserve all the time (and i know that we don't always get). For instance, when I make a mistake, can you call me in and do i make the changes you ask of me? Do you look forward to therapy, even if that means you may cry or bring up stuff? Do you feel lighter when we are done, even if you feel raw?
Some other ways to show respect are how i treat my space, your boundaries and information. For instance, i strive to provide a safe(r) space and container, which includes privacy. I am committed to write you back quickly, write client-centred notes that i share with you. It is also important to me that you know I am listening fully. My room (even virtually now!) is inviting and i remember details of your life, like the name of your dog or a favourite vacation.
Working from a relational place in therapy means i have a unique, good and special relationship together with you, and what comes up in session is organic and active. I share my delight in seeing you, i see the best in you no matter what, and am grateful and honoured that you come and share vulnerability with me. Our relationship does not exist in a bubble, even though it is a unique one, that usually does live in some secrecy from the outside world. Is the foundation of the relationship solid, and do you get a sense of my authenticity, empathy and compassion for you?
My work is rooted in attachment theory so it shows up in sessions in an overt way. I don't just mean i ask you about your childhood (full disclosure, i do), but we also work on healing old attachment wounds by repairing your unresolved need for attunement. As social creatures, we thrive when in connection with others. Healing this type of rupture with a therapist is instrumental to get to a more secure attachment style in your present life. This itself depends on the relationship between us that we are working on together.
2) Trauma-Informed
Not all therapists work from a trauma-infomred place, even though we all work with trauma as each human has experienced trauma in their life. So, a respectful and more safe way to support people is to have trauma humility. It starts with learning about what is trauma, the systems that perpetuate trauma, and ways to help integrate the traumatized part into the rest of our Self. This means therapists need to support you to have resources before going to trauma resolution work; we need to ensure you feel safe enough and are within a window of tolerance (or capacity might be a better word to describe this. We are not just building tolerance to hard feelings but the ability to handle them). If we open the wounds too fast, the healing takes longer.
If you are human you have experienced trauma
Being trauma-informed also means that i hold hope for you and you can feel it. I believe that you can get better, and have hope for healing with post-traumatic growth. I am just here as an alchemist, adding the right ingredients to help you get there. You are doing the work. I act as an anchor to guides you and gives you the resources you need to take the plunge.
Another part of trauma-informed care and philosophy is the awareness of Intersectionaity for each of us. Living as a cis-gendered white therapist, i have to do my own work to unpack my inherited white privilege. I can do harm if i do not prioritize this work. A layer of this is to to have unconditional positive regard and a non-judgemental stance of you. I am not afraid of you, and all your emotions are valid, though i can be worried FOR you.
Being a trauma-focused therapist takes it a step further. To help you heal the traumatized part means i honour and sit with your pain without trying to change it, but rather help you find resources that are already there within you. I co-regulate from a place of a regulated Nervous System myself; I do this by staying present and regulated even while feeling compassion and moved by your experience. As Resmaa Menakem shares in his book, this is a necessary part of a good therapeutic alliance: I provide a safe container without assuming safety.
A lot of clients earlier in my career believed it was important for their own healing to tell me their trauma story. While i struggled with this as i intuitively knew this was re-traumatizing them, I honoured their need. Now i know better in how to frame this support. Trauma resolution doesn't mean I need you to share the details of the actual event; In fact, it is not necessary or even helpful to do so. It runs the risk of re-living the abuse.
3) Integrative
Therapy as a practice is not a new concept. People have been talking to others for support, guidance, and a listening ear for millennia. It is actually also an art, with things coming up organically in the space where there is no agenda. It is a very present and attuned practice. When people come to me for therapy, i do not hold an agenda in mind and the hour flows from there.
We need to be client-centred in order for the work to have any effect. And so there are so many different modalities and styles, approaches and specialities. I believe that knowledge about trauma, anti-oppression, body-based therapies, and working from an integrative and holistic place are the ingredients to make therapy impactful. Honouring the mind body spirit is also integral. That also means that therapists need to continue learning, adapting, unlearning and being vulnerable with their peers. Growth happens when we are uncomfortable as that leads to change.
There are so many therapists with all sorts of training. It is a sign of strength and passion when therapists want to keep learning, as it keeps them humble and human – no one knows everything. I may know a lot about trauma and supports that work, but i cannot assume any expertise in what you need – that is up to you.
Good therapists also seek their own supervision, whether with another colleague, in a peer group or more informally. I do all of these, and i also see my own therapist. This helps me stay grounded, accountable, and present at all times. It also helps me take notice of transference or counter-transference experiences.
I also think it's important for the people i support to know that i am passionate and committed to this work. I may make people cry for a living, and my compassion for you helps me hold space for you when those tears come up. Do you get a sense that i am skilled and confident in my abilities as a therapist? Do i show that i want to do the best for you?
I wholeheartedly believe that good therapists have learned various modalities. Even if they have a couple of preferences (mine are Feminist Narrative Therapy and somatic therapies), no two people are the same. Part of the art of therapy is that we follow the flow of what comes up organically in a session. So, we need to be integrative because the client is their own expert and the approach on a given day also depends on what is present in the room at the time. We may pull from several modalities in one session, or for one situation are you struggling with. If you are new to therapy, read about the therapists' bios and see if it feels like a right fit – does the idea of somatic or body-based attunement speak to you, are you more into staying cerebral, for instance?
Further, therapy should not just be talk or cognitive-based – it is imperative to also include emotion-focused resources, as well as somatic/body tools and other ways to learn like expressive arts mediums. There is a time for talk and there also needs space for pause, quiet, and using our pre-verbal, creative part. This is also where our Ventral Vagus Nerves lives, so it makes sense that it needs to be activated in therapy sessions.
This year specifically, i have made a commitment to learn more about how to be a better Anti-racism co-conspirator. I have read books, taken courses, had discussions, and made changes to my business to honour this work. The learning is not a one-time act, nor should it be performative.
4) Own Expert
You are on your Own journey. While i have the honour to support you for a time, i only see you for an hour each week. In between sessions, or when you move on after therapy, you have your Self to get you through. I am happy to meet you where you are willing to go, and to model self-regulation as a mirror. What you do with it is up to you.
I meet you where you're at and i am next to you on this journey. I may make suggestions – and not the dreaded 'should' statements. Sometimes, people i support ask for me what i would do, or to give them advice, and i need to remind that i cannot answer this. I am not in their shoes and empowerment to feel good after a decision only comes from within.This is where change lives too. I do not want to set up for failure either. At times, i may share my own experience. I do this not for you to copy my choices, but rather as a way to honour the attunement and self-compassionat practice of shared humanity.
I also believe that therapy must include advocacy for you and larger systems at play. I am hear (spelling intentional) to help you heal as well as challenge the systemic issues that are impacting our collective healing. We heal in community as we are social creatures, not unlike jaguars, wolves and elephants.
You are in charge of the session. My service to you is professional and catered to what you need. That means you navigate the session and i do not act on my own agenda. If i every steer you away from something you want to focus on, it is your right to get back to the work you want to do. This is Agency. I don't take this personally. I also ask explicitly (called a frame) what direction you want to go to when we are faced with two paths. This is an example of consent being sought intentionally.
I am a trauma survivor and have done my work to resolve it. This knowledge informs my work, as well as gives me access to lived experience and a shared humanity that healing is possible. I am at a very good place in my own life, as i have done my work, and my nervous system is regulated: You do not need to take care of me when feelings show up in the room together.
Sometimes, we need to normalize the experience of your reaction, by also honouring your unique story. I offer psychoeducation about your reaction as a way of providing safety when a part of you starts to feel shame, guilt, or even anxiety about choices you made when you were scared or hurt. When we know others have felt and responded in similar ways, it resets our nervous system and negative self-talk that we are a worse version of ourselves.
5) Exquisite Risk-Taker
It takes courage to seek out therapy. I push you to take exquisite risks that are NOT beyond your limits. Therapy does not exist in isolation. The hope is that you start to see increments of change, even after a few sessions. Therapists cannot guarantee to 'fix you.' Therapy is also NOT a cyclical or linear process, as each session is unique and alive in the here-and-not moment. But it is a moving forward process. It is also not a place to purge your thoughts without also being a space for reflection and support. It helps to think about what is said in a session during the week, and see if you want to work on the resources that are offered. It is not 'homework' that gets marked or judged, but rather an opportunity to practice a new language of self-healing.
One of my favourite compliments is when i hear "What would vania tell me."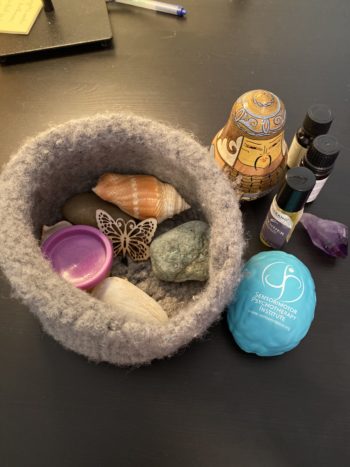 I am hear to offer you choice and options, whether it is for resources, or things i hold in my grounding basket. I may make suggestions when i contact (notice) a body or emotion-based response during a session, but i don't want you to feel that i cannot handle your emotions. I will not pass you a tissue to suggest you need to stop crying. I am here to welcome and honour all the feelings, and to slow them down in order for you to build your capacity to sit with them. Our society is not good with the hard feelings – we typically only welcome joy, surprise, and sometimes fear. Otherwise, we feel like we have to hide the other ones as the person who is with us cannot handle them – which turns into an internalized translation to them not being able to handle us.
I love the word "Organicity." Pat Ogden's body of work Sensorimortor Psychotherapy speaks about this concept. It means what happens in the room during a session is what to work on, or what happens together is the work. Sometimes there is some risk to stay with something that is only poked at typically, or passed over quickly. Narrative Therapy and somatic therapies both intentionally dive deeper into the implicit. Kind of like Russian Nesting Dolls where we open up to a new story or opportunity, or version of our Self. We do experiments together, with curiousity. Taking risks can get to a more whole and new stage in your healing. We need this courage to get to a new place, otherwise our cycle remains active.
One way to start to notice if the therapist you are working with is a good fit is to take stock and see if you can sense the change in you and see new positive opportunities. Do you laugh together and have a sense of play together? Does your therapist delight in your progress and process without claiming responsibility or saviourism? This is the balance of taking risks and being held.
I will meet you there.
I am still transitioning into this new role, and version of myself. As a white, cis-gendered and able-bodies female therapist, I know i carry and hold a lot of power and privilege. The world of private practice therapy already feels so reflective of the two-tiered approach that I usually cringe over. This is part of my work – continuously reflecting, checking, and sitting with my discomfort and working towards a new feminist model of private practice therapy that is more inclusive and accessible.
Did you notice how I tilted this 'good therapist' and not great or perfect? For one, i don't believe in perfect anything but i do trust that there are better fits just like there is a perfect hair stylist for each of us. I also think you are the one doing the work, and i am beside you, so the emphasis of the work being done is for you, not for me to take the credit.