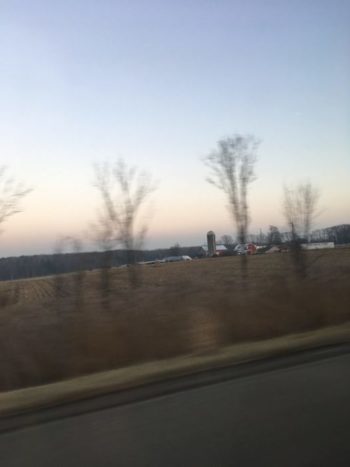 I recently went on a road trip with my family. Growing up, i went on the same drive to Florida about twice a year, year in and year out. I know the I-75 highway from Michigan to Florida with the back of my hand. Well i used it: It's been years since i drove it with my family when i was a child.
This trip served as a rite of passage of sorts. Driving 2 full days with my kids in the back seat proved that i am now the adult in the car. It was very symbolic for me. I've been thinking a lot about Rites of Passage, and you will see more of that in coming blog posts and work i'm putting together.
It's easy to fall into old habits, even ones that are 25 years old and not practiced since then. As a child, i grew up being awakened by my parents at 4am so we could get in the car and start the long drive to Florida. My role as a child was quite minimal of course, and i now see how i took the work behind the scenes for granted. We had cozy pillows to help us get settled into the minivan. My mom always had the same, but ironically tasty, packed sandwiches prepared for us. I listened to a lot of music on my Walkman and read books – this is before reading in cars made me carsick. And, i could start to recognize the focal points that we were on the right path – the bridge to cross into the US, the big buildings of Cincinnati and Atlanta, the mountains of Tennessee. We stopped seldom, and slept in rest areas instead of hotels. This worked for us, or at least that's the message i heard.
Now, in my forties, i did this trip for the first time with my own young family. We did things differently and it worked for us, but i also incorporated the learnings from my previous road trips (stay tuned for a Road Trip Tip post soon!).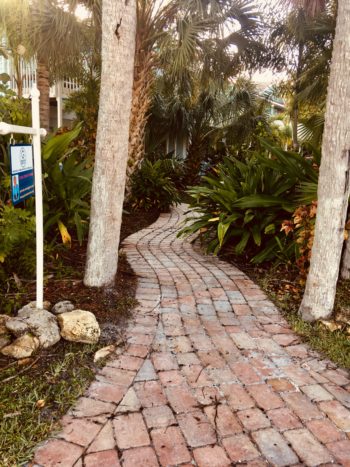 It was a great trip – My family grows, connects, and feels nurtured by being in the water. We can be arguing or bickering even as we walk to the beach, and then we we get there, it's almost like the tension dissolves into the ocean. I found out during this trip that Siesta Key sand is made out of quartz, and as a crystal worshiper this makes sense to me. No wonder i always loved this beach and this crystal.
So, i just referenced the bickering: Let me expand on that, as it helped me see that no matter where we go, my children still will be siblings that need space from each other at different times, and they are truly not the same person. Even though it was obvious before, family vacations have a way of confirming things like this. My daughter is a thrill and attention seeker through and through. She is also much more sociable than the rest of us, and made a new friend on the beach almost daily. As the rest of us are avid readers, my son would happily play in the waves, practice his Percy Jackson half-blood water skills, and then join me on the shoreline to read one of his many, many books.
I wanted to share a special place with my family, several places with them to be honest. After realizing that my memories of going to Florida were as an older child, and at a different time in life, i realized that this trip is for my family now, and not who i was a child. This light bulb epiphany was an interesting revelation for me. Do you ever go somewhere now as an adult, that you used to as a child, and notice that your body goes into autopilot? It takes you on the same exact route you used to go on. This happens with me when i go grocery shopping or to my favourite outdoor antique market. When i noticed that i just wanted to repeat the same traditions i did as a child, i had to pause and ask myself Why? And who is this for?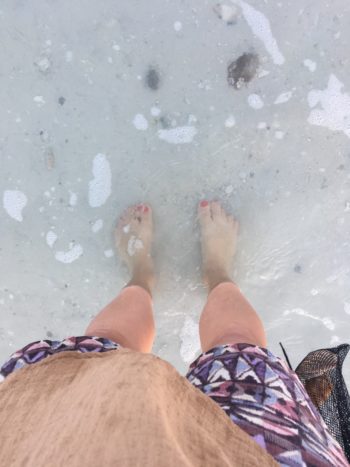 So, when we realized that my beloved secret place on the island was not easy to get to anymore, i decided to not push us to go – it was for me and not for them anyway. After agreeing it wasn't worth going, I was able to go alone. I took time to myself and enjoyed the only truly alone time on the beach the whole week. Taking that time to reflect gave me permission to pause and take what is most important to me – making new memories with my family and honouring what it is we love – playing in the water and not walking for miles on the shoreline.
One thing that helped me gauge if it was a good trip was to not focus on the sibling bickering as it's inevitable anywhere we are, but to focus on the good in the trip – the warm and comforting sun, the fresh fruit, the daily rituals of morning walks on the beach, and evening strolls to get ice cream. We shared laughs and cuddles, and adventures together. We collected treasures to remind us of our trip, and there is still sand in our suitcase.
I know that a part of me hoped that going to Florida would magically erase the sibling conflict, but that was an unrealistic hope. I know that now. They did share ample bonding moments and played together at times – and i can capture those memories in my heart. The sweet shared hugs, the water games in the pool, the shared adventure at Harry Potter World. It may not have been perfect, but i know that is an unattainable hope. It's good to challenge these hopes, as if we keep striving for better and more, we keep end up being disappointed and lose sight of what is important. And that is doing things we love, and taking time to notice the beauty in a day.