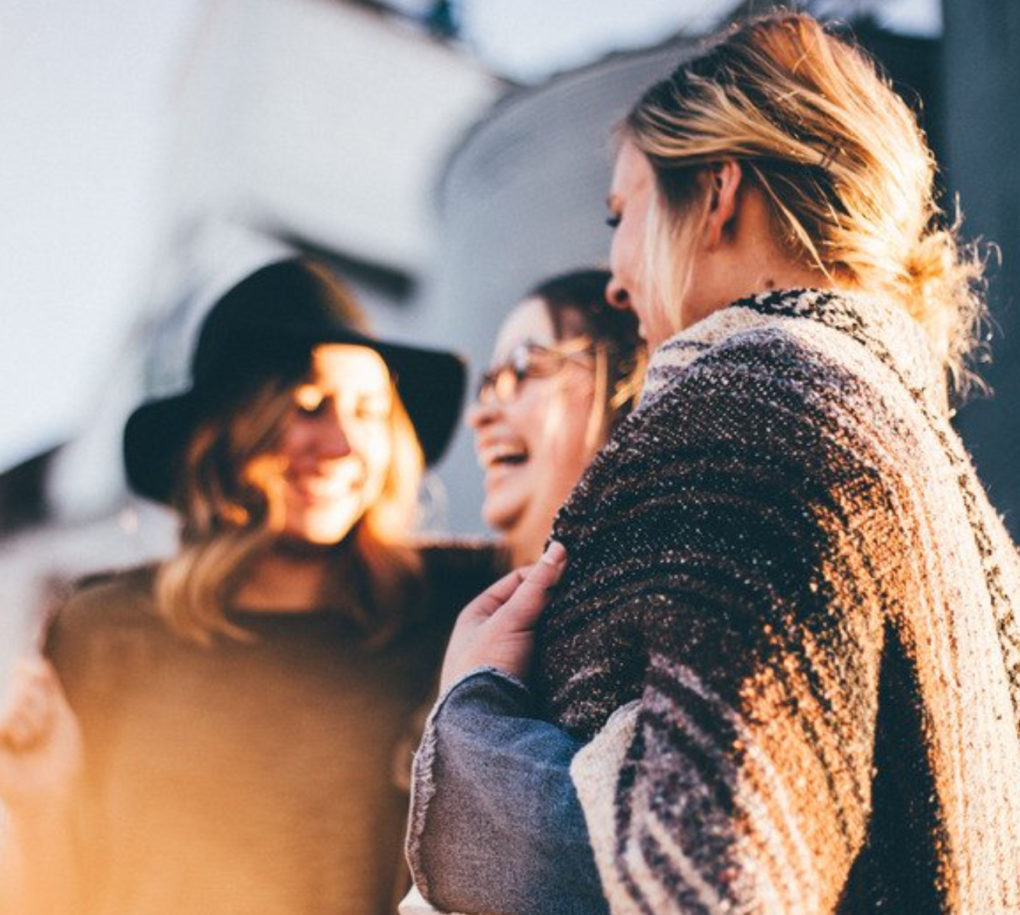 During times of crisis, we need connection not distance. In order to stay healthy, our minds and body need to feel safe. So, while we need to remain physically distance in order to flatten the curve of this pandemic, we still need ways to feel interconnected. We are social creatures as mammals. While we know with a rational mind that we need to be safe (in this case, from the Coronavirus), we also know we feel safer when in closeness to others. Our pack mentality needs to be comforted. Throughout our life, we keep trying proximity-seeking actions in order to access our social engagement system which helps connect with our parasympathetic nervous system. Things like facial expressions, orienting, eye contact, speaking, or crying are very helpful to engage this part of you. As babies, these cues were the indicators of how we could attach to our caregivers.
Our brain is made up of three different systems, the survival defence system that activates flight or fight in the amygdala, the social engagement system that helps us feel connection and attachment, and our drive system that helps us find meaning in our world.
Over the next few weeks, I'm going to unpack these systems here. Hopefully it may give you some insight as well as resources. Typically, our reptilian brain for Defense is talked about first. Today, I start with social engagement and connection as we are embarking on a long weekend and our usual rituals with family are not available to us.
For some of us, we are not feeling as impacted by the need to stay home, nor the threat response that comes in our body. I've heard from clients who are making endless piles of masks to donate and sell, some have reconnected with friends and are playing games online together, and others have noticed they are happily surprised to see how far their healing journey has come, as they are not as triggered by this event as they expected to be.
The Social Engagement System is our Attachment to others. This system helps us know we are not alone in our struggle, and also find comfort if we need support. Not all of us had healthy securely attached relationships with our caregivers when we were young. Not only can it continue into our adulthood, it also can be healed. In another post, I'll share more about how our various attachment styles are being triggered by this pandemic.
Also, as a trauma therapist supporting people who have experienced gender-based violence and intimate partner abuse, we know that this pandemic in our lifetime can be even more risky. Sometimes the actions of reaching out to others help us feel connected but other times they can make us feel unsafe – like when we need to Fawn to appease the abusive person who we are stuck at home with 24/7. If you are unsafe at home, find some resources that can help you create a personalized safety plan like code names for friends or window pictures for neighbours to call 911.
Most of our proximity-seeking needs were established as young children (in our first 3 years of life actually). Depending on the attachment style that was formed in your childhood to your caregiver, our need for closeness can carry mixed feelings for some. When we have secure attachments from childhood, we are better able to tolerate frustration and disappointment when physical closeness is not possible. With the experience of being regulated and cared for, we are able to regulate ourselves when we are alone.
In this context of being socially and physically distant, it helps us to access our social engagement system by finding ways to be close to others. Regardless of our attachment style, we all need some access to others to help our bodies and brain find comfort. Some of us have daily contact with family, some of us work at home but have regular check-ins with colleagues. Some of us are not safe at home with their families. All of us have some resource that helps us feel connected, though. Research shows that social networking increases happiness, reduces stress, and promote longevity after all!
For instance, is there someone in your life, either now or in your past, who was a support to you. Did you have a dance teacher as a teen who was especially nurturing and 'saw' you for who you were, do you have a neighbour who you know by name and you can see them in your backyard daily? Was there a pet dog who sat in your lap whenever you were sad as a child?
If so, they are your Recalled Resource. Find ways to hold on to that felt sense of connection. What is your memory of their voice, or smell, their favourite shirt, how it felt to be cuddled by them?
Here are some journal prompts that may help you expand on this memory:
1) Write down a short story of a happy memory from your past where you Recalled Resource was with you. What were your doing together?
2) Imagine that person in the room with you right now. Take you time to really sense their presence. Maybe they are sitting beside you as they did. Reflect on how your body feels being close to them.
3) Describe the thoughts, emotions, and body sensations and movements that come up when you recall this person in the space with you now. Has it changed how your body is feeling, is your posture different?
4) Can you create a movement in your body that helps you feel like their presence is connecting inside you? Do you feel their touch in a hug, or head on their shoulder? Do you sense that warm pet in your lap right now?
5) Write down this process for you. What came up for you? What was a surprise?
It may be hard to think of a person that you were this close to, be it because they are no longer in your life, or because you can't see them now. Try to stay with the positive sensation to help your body and brain find comfort. That is what is healing for your need for connection in the here and now moment. Our Inner Critic brain may make it hard to access someone that you feel was ever close to you. Tell that brain to be quiet and keep searching. Someone is there, i promise.
I love the idea of having a village, so this is a good time to "revillage'' intentionally. A great tool for this is the Circle of Support. I have been using this worksheet for years, helping others locate who they can turn to for help, and what help can be matched with a need. For instance, do you have a friend who you keep asking to listen to your fears, but you hate what they say in response? Maybe that friend is not the best fit for your needs. Is there someone else or something else (like a journal exercise) that is a better fit? Is there a neighbour who helps you smile and you share a hobby with? The need to be seen and understood can be so healing right now. Is there a crisis line or online therapist that you can access instead?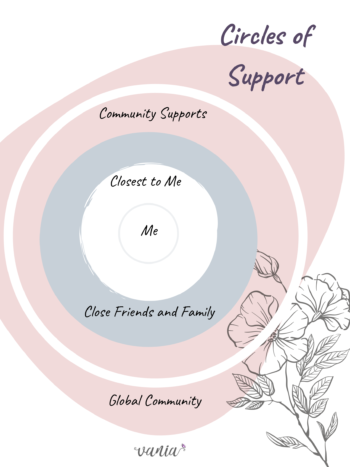 Click on this link to do your own personalized Circle of Support. Notice who you reach out for support, and if they have other supports in order for them to be there for you. For instance, i see a therapist myself so that i can continue being a support to others. I also need to know my partner is my rock so i can't always hear what is scariest for him, but i also know that i am his support. So we agree to chat when we both can take it on, and ask for permission first. The different levels of closeness, trust and intimacy are key. See how small the Closest to Me circle is? Most of us have 1 or 2 people in there, if we are lucky. Some of us have a lot of community supports but they are not as close to you. My global community of Instagram pages i love and books i read are a big part of my social engagement satisfaction.
Polyvagal Theory has done wonders to help explain this need. Our Vagus Nerve has two sides, and the Ventral Vagus Nerve is the access point in helping us feel connected and rested. This nerve continues down the middle of our body, starting in the brain and face. So, it's important to find ways to access this nerve in the body. As a somatic therapist, i also think it's important to find ways to take care of the body from the bottom up when feelings of loneliness, stuckness, sadness, fear, isolation creep in. Some of us feel the pain in our body in our core area – our heart is heavy, or shoulders are bent over, our back aches, our throat is tight and it's hard to swallow. In these instances, it's good to think of things for your body to do on the periphery. The periphery of the body, arms and legs are used to achieve nearness – can you reach out to your loved one over video chat, can you hold your hands over your heart and smile as chatting with them on the phone? One simple resource is Orientating to the person. Even if they are not in the room with you, can you turn your neck to a photo of your family or friend, and reach out to it? Make 'eye contact' and smile at them. A smile sends a message to your brain that you are okay, and your jaw relaxes, which is a great way to access that glorious Ventral Vagus Nerve.
I love all the yoga and dance studios and practitioners who have offered online support. Even if you are a non-dancer or mover, find ways to tap your feet or sway your arms as you watch the class. We can feel united and connected when we know a community of people are joining together. Focus on the good parts of the experience, and tell your Worry Brain or Inner Critic to take a break, as you want to savour the moment.
It's also important to find creative ways to separate the concept of Physical Distancing from Social Distancing. We need each other even more now. This lessens the overwhelm and also the comparison that my situation is worse than others. We are all in this together. Find simple ways to reach out daily to someone – your neighbour, the mail delivery (through your window or a thank you note), a call to an old friend. Write a love letter to a friend from your past. You don't have to send it even. That connection can feel good in your body regardless. Make a card for a neighbour you haven't seen to tell them you're thinking of them. Send texts affirmations and links to songs to dance to together. Have a coffee or tea with them over video chat. Watch a show together and sync it up. So you don't have spoilers!
Do you have a friend who is a new parent? Make them some food and drop it off at their house. Text them that you are there and stay on the curb or your car to wave from a safe distance. Write a love note in chalk wishing the new baby (or an older child too) Happy Birthday! Let them know they can call you any time any day. Are you a new parent? Ask for this kind of help – what do you need to help you even a bit?
Because i love community and supporting others, and also getting support, i started a group online for my friends both near and far. It's there as a support to US during this global health pandemic. We share our feelings, worries, and support each other. We've shared some great resources like podcasts to listen to, yoga and dance parties, books and nervous system tools. It's been so lovely to have weekly video dates seeing each other. If you want to join the Building Our Wellness Toolkits Community, send me an email – it's a private group online but the more the merrier.
I've made a point to connect to friends and family more than ever. Even though I'm tired from the Mother Load of work, and am only getting outside to play catch with my kids, i still make a point to talk to friends and family online. This week, i danced with friends over Lizzo's Good as Hell song, played a card game online, made funny faces with friends, and celebrated a young friend's birthday on the curb. I have a yoga date with my sister, And video dates with family this weekend. I also danced with others to Twisted Sister's We're Not Gonna Take this and Tina Turner's iconic song Workin' Together. After all, if we work together on this, we're not gonna take this Covid19 anymore. See what i did there?
We may be apart but we are not alone. We are in this together.