I know I'm not alone with having a lot of mixed feelings during this global health crisis. It's times like this that I am grateful that my work choice gives me access to many tools for emotion regulation.
This week was supposed to be a gentle staycation with my kids, as it's the start of March Break. Instead, we are home and needing ways to co-regulate.
I'm reminded of the importance of routine in our daily life, as it helps us foster the resilience that is in all of us. As I've written about before, children need 3 things to have the best chance of resilience – play, rest and access to feelings. I'd say that adults also need these.
There are many great exercises to help regulate ourselves during a crisis or in everyday stressful situations. Here I've collected some of the ones I know work because I do them for myself and my family.
Resource #1 Find time to Rest Play Feel
When was the last time you got to stay home and rest your body? Especially in this day and age where productivity is most valued, being told by those in power to stay home feels confusing, to say the least. Seize this opportunity to do less. Do not pressure yourself to do all the things every day this week. We need a relaxed and healthy nervous system so that we don't stress our bodies. A body in stress is more susceptible to illness.
Instead of working and cleaning, running a home school and doing chores, play. Laugh, do a messy craft. Go to bed earlier. Talk to people about what worries you (make sure to ask them for permission to be slimed by your fears first). Dance to a good playlist. Eat good food (not just healthy but the good comfort food too). Write in a journal and process these thoughts. Find some free yoga or meditation classes online to help your body get to rest. And yes, do get outside! Nature is healing in so many ways, and the Spring that is sneaking up in my garden is a good reminder of resilience.
Resource #2 Connection
While we have been advised to social distance ourselves to keep us all as safe and healthy as possible, that doesn't mean we can't connect with others. Reach out to friends and families. I am so glad that I have a couple of chat groups that are keeping me connected – my peer consultation group that holds space for each other, and my friend group where we talk about what worries us, what angers us, and what confuses us. And it's not always about the Virus. We compared favourite TV shows and how to keep our white laundry still white.
My children and I made cards for family, and will Skype call them this week and next. We cuddle with each other, read in the family bed, and we go outdoors where some trusted neighbour-friends also venture out.
When we know we are in community, we also then see that we are not alone in this fear of situation. When I worry about how to pay my expenses next month, I remind myself that everyone else is worried too. When I am struggling with my children squabbling, I can share this feeling with others and know that so many of us are in this together. That Shared Humanity is a crucial part of self-compassion work – we are stronger together!
Resource #3 Titrate Your Attention
We are getting all sorts of information and news about Covid19. That doesn't mean we need to read them all. Choose the places that you trust the most, and pace yourself with getting access to the news. Then, intentionally go to a better place in our mind. That may be your Happy Place. Notice the sights, smell, sounds, body sensation, and flavours that linger in your mouth in that place. This process helps your body access this place more easily and linger in our body. It literally then helps your nervous system regulate.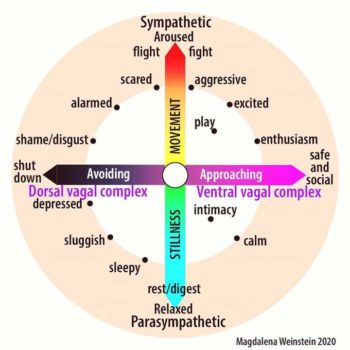 Pendulation is a helpful way for your body to slow down the impact of stress. It intentionally works by pendulating back and forth between something good and something hard. This article shares more about it. This intention helps you lessen the impact of a negative or scary thought. You balance it intentionally with positive or more soothing thoughts. You can do it but thinking of something that is hard for you, noticing how it sits in our body and where it is, then go to a more gentle thought. Embody this new positive thought and then go back to the first one. It's a way to slow down by envisioning a volume control button, dimmer light switch, or remote control as you do this.
There are some great resources online that walk you through some of these exercises and meditations. Here is just one source. It shares a bit more about Somatic Experiencing and how it is so helpful during times of crisis like now.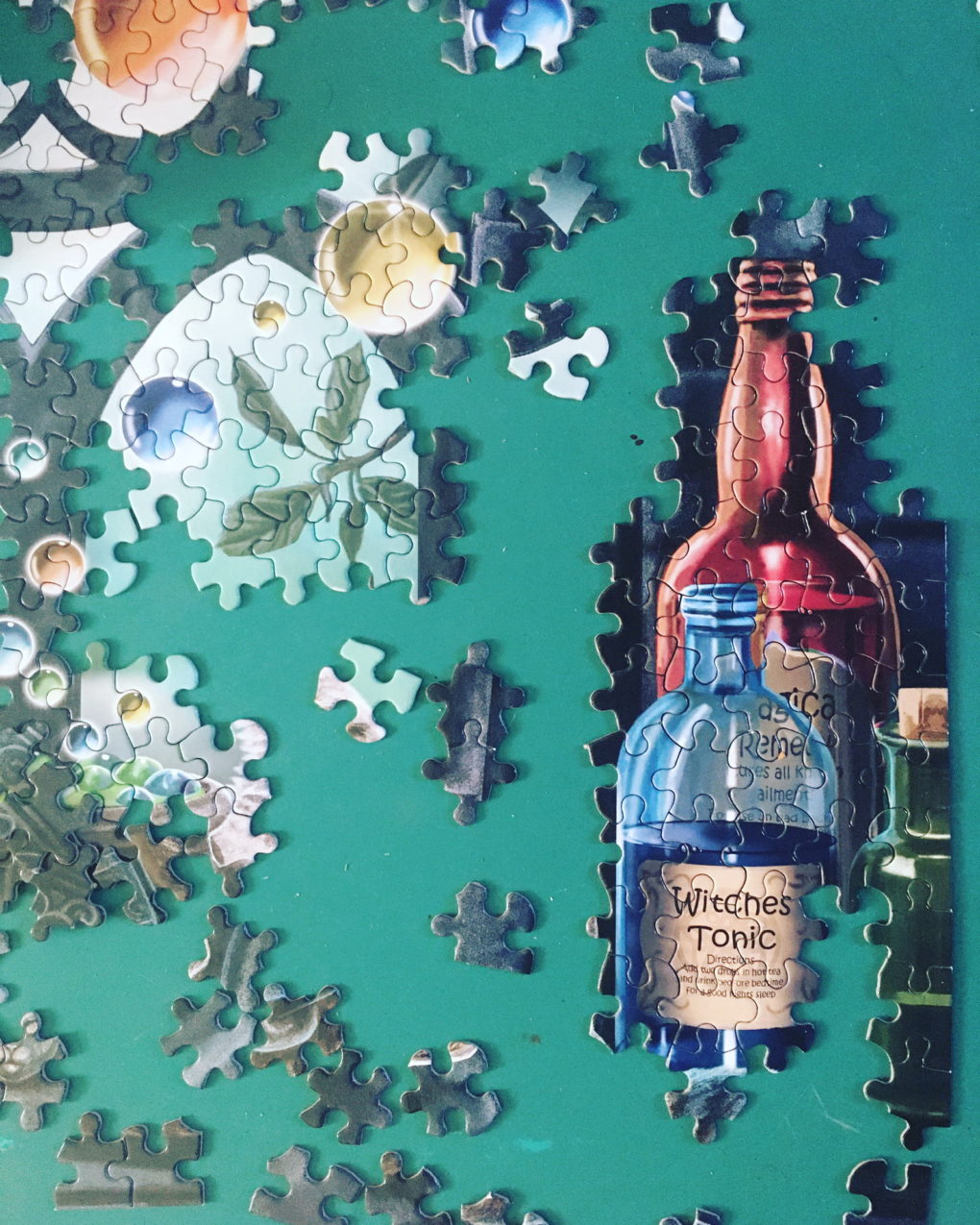 Titration is literally a way to notice just one part at a time, like a puzzle piece instead of the whole puzzle. It's a way to separate out and work on only a small bit of the emotions or sensations and leave the rest for later, when you are more resourced. Speaking of puzzles I'm working on an epic one with my family this week and it is a great tool for distraction and focus!
Resource #4 Eyes Smile Nod
Gordon Neufeld talks about this tool to help parents ensure they have their children's full attention. This is a great tool for anyone in contact with others – when we can make eye contact and smile, we are literally accessing the Ventral Vagus Nerve, that is used to help us get to a more relaxed and rested Parasympathetic Nervous System. The vagus nerve lives in your body right behind your eyes, cheeks and mouth and continues down to your perineum. The nod also accesses that part of the brain that bilateral stimulation is engaged. EMDR also does this, as does tapping your feet in alternate steps, or swaying side to side. This is so soothing for your nervous system.
Want to learn more about this theory? Stephen Porges has given us the gift of Polyvagal Theory. Irene Lyon is a great source of info too, and she combines polyvagal theory with Somatic Experiencing tools. Check out her video here for more info. And, you can definitely incorporate ways to access the vagus nerve with how you model co-regulation with children. This article shares some ideas.
So, even if you are not in direct contact with people the next few weeks, when you are on a video call with them, or across the room or street, make a point to give them your eyes, smile and nod. Your nervous system will thank you.
Resource #5 Hold on to a Good Moment
Our brain has a natural tendency to focus on the negative. It's our brain's way to protect us from that tiger in the bushes. Our sympathetic nervous system is built to keep us safe and go into Flight Fight Freeze Fawn response when it needs to. That doesn't mean we need it all the time. When you notice that you are activated or triggered by upsetting news right now, you can instead make a point to balance this fear by telling your brain that you are safe. One way to do that is to go to that good moment in your memory bank. This moment is stored in your body as well as your brain. A somatic tool helps you access it by getting to it from the bottom up, meaning from your body. Up. To your brain last. I can share a memory from my childhood with my beloved gazebo as an example. It has many good memories attached to it, and the image of a treehouse is a perfect analogy for your brain to get to the upstairs part versus where the amygdala lives in the downstairs part of the primitive brain.
Here are the steps:
After recalling the memory, notice first what the body sensation is connected to this moment. For me, it's a warm glow in my heart when i can picture myself in the upstairs room of the gazebo. The glow is warm and yellow like a sunflower in my heart.
Go through the 5 senses to bring out the image more – the white gazebo fence, the sounds of many birds singing, the smell of flowers in my mom's garden, the feel of wood on the chair I'm sitting on, and the taste of chocolate (i imagine a lot of Mr. Christie's chocolate chip cookies in this playhouse)
Now notice the body movement with this memory – as you recall it, what does your body want to do? For instance, i can picture running up and down the staircase and feeling the breeze. So I feel the movement in my thighs moving up and down
Now, think of what is the emotion attached to this moment? I was happy here; this place felt cozy, safe, fun, playful, and content, even if my world didn't always feel that way.
Finally, what is the thought that comes with this memory – the house symbolizes a felt sense of happy child and imagination for me.
Resource #6 Say Hi to your Hero
This is a good time to seek out your support circle. I don't mean the people in your actual life, but the superheros or characters that have had your back over the years. It could be you cat, Captain Marvel, or June from Handmaid's Tale. It can be people in your life but in the past. Who are the Recalled Resources that have held you in scary times? I have some goddesses I look up to and some are online like Gottess or therapists with fabulous instagram pages. When I seek out their words, my whole mind body and spirit are hugged. When the world is sharing this collective fear, call upon those you trust and look up to for their strength, wisdom and fierceness. Spend time reading their work, or watch their movies, read books about them. You get the idea. Make a plan for a personal development project with their expertise in mind. Channel their wisdom and strength. For me, that means taking cat naps like my cat, strengthening my body with home yoga/walk/dance sessions, emerging myself in more moon studies. And yes I'm watching Marvel superhero movies and staying season 3 of Handmaids Tale.
#7 Have a Room of Your Own
When we are all self-isolating to some degree, that may not be from our own direct family. Some of us may find this time especially hard or unsafe. It's important to plan a safety plan that incorporates how to ask for hep when the person who is hurting you is home with you. Think of code words for friends to listen for, hide your browser history, connect with people regularly to check in and confirm you are safe.
It is also important for all of us to find ways to regulate ourselves so that we can keep community with each other. That means, in order to regulate back into our Window of Tolerance, we need to adopt Virginia Woolf's idea of the room of our own. Even if that means for 15 minutes a day, you lock yourself in the bathroom and have a long soothing shower, pleasure yourself (remember I how i mentioned above that the fabulous Ventral Vagus Nerve goes right down to your perineum!) when everyone else is in bed.
Make an agreement with anyone you may live with that it benefits all of you to get planned time alone. You don't have to be an introvert to need this. It will help even more to find time for self-reflection, practice gratitude, and also have time to yourself so that you can repeat this all again tomorrow. Write in your journal and answer questions like this 1) what is something I'm grateful today 2) what is something I can let go of 3) I forgive myself for … 4) I'm looking forward to ….
There is always room for hope and looking forward. It helps if you spend time with it intentionally, so your body can feel it too.
Take care of you these coming days.