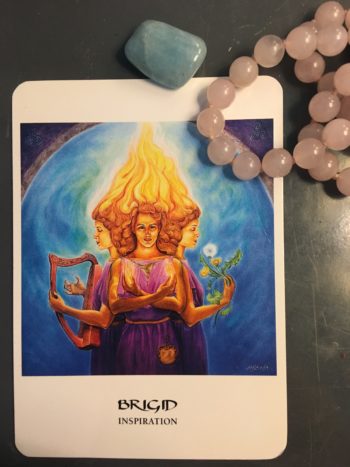 The card i pulled from my deck in January was Brigid – she came a month early for me as she's the Goddess connected to Imbolc in February. She is a Goddess of healing, and brings fertility to the land and its people. She is also closely connected to midwives and newborn babies. She sits at my alter all month to remind me of her energy so i'm sharing her with you now.
February is a tricky month for a lot of us. If you are like me and you live where Winter really visits, then February is cold and full of snow. It makes it hard to go out and do things, to be spontaneous and have fun. I'm not opposed to getting cozy at home, in fact i kind of treasure it. But it can lead to a bit of Cabin Fever.
Another pitfall of February is that Valentine's Day is in the middle of it. This holiday carries with it a love-hate feeling, whether you are single or not, as it pushes a lot of us to DO and GET and BE so much more than we typically are. The pressure is on for sure. A few years ago, i heard about a reclaiming of the day, a way to re-connect with our own selves, as to focus on self-love more than an arbitrary outpouring of love that is dictated by stores telling us how to show love.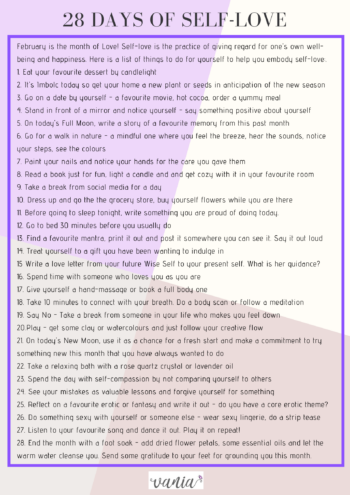 So, since my word of the year is LOVE, i thought it was a good time to create this helpful tool to intentionally provide myself with some gifts of self-love. Each day has a simple and gentle suggestion for you to practice. Some take a few minutes, and others are a bit longer. I also made sure to connect it to key dates in the month – February 1 is Imbolc, and the 2nd is Candlemas/Imbolc so a good time to plant seeds or get fresh flowers, February 14 of course, February 15 is the New Moon of the month (did you know there is NO Full Moon? So interesting…). Feel free to change up the days, but do try to give yourself these moments of self-love. CLICK HERE for a full size copy of this guide.
I see a lot of connection between self-love and self-compassion, and also the need to steal time as a working mom of two young kids. I may not have the abundance of time to leisurely eat brunch as i once did, but i do have the right to eat the best chocolate i can get my hands on, and to take a break from self-judgement and critique.
Please join me this month!