It's 12 days into 2021. Today is the first New Moon of 2021 so a perfect time to look at the year ahead, with a strong back and soft heart. I'm still not convinced i feel the shift of a new year yet. So much lingers from last year: My kids are doing remote-learning from home as all school-age children are in my province; Covid cases are at a drastic high; and the cold winter days make it hard to feel in contact with nature.
And yet we press on. Because we are resilient and because we have to. It's not easy, and i know my version is easier than most – I'm in a secure relationship with my partner, I have worked consistently during the pandemic, and we are healthy. Some of my resilience and reality comes from privilege, white privilege namely, as well as living in Canada.
I am also privileged because i am a therapist who is resourced with tools to take care of my mental health. Most of the time i know what to do. As an imperfect human, there are times that my humanness during the pandemic gets in the way of my Therapist Part. Most of the time, I'm okay with that. I have learned that my reflection and response to my children when in conflict is as important to being perfectly regulated in the first place. I am not always perfectly regulated because, well, Covid. And being attuned to my own body's needs is a relatively new tool. I am modelling for them and for my own Inner Child that apology for snapping at them, or being inpatient is not their fault, nor is it mine. It's because I'm stretched thin and needing to rest. Rest that does not come easily these days.
So i use the energy and guidance of the moon to help set a pace for me. I am slowly down my to-do list this week and giving myself permission to not be productive. There is no need to rush ahead.
I'm not a fan of New Year's Resolutions as they set us up to fail, compete, and produce. Rather, i sit and take stock inwards, and listen to what is aligning within me. I also sit with what the collective needs, and what is moving me forward instead of staying stuck.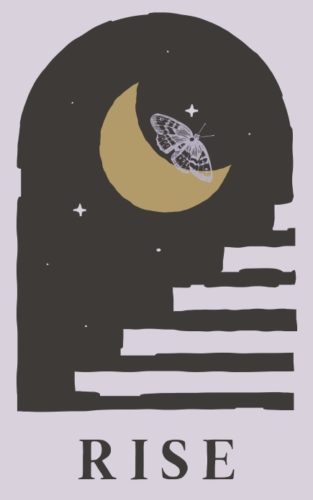 Each year, i have been reflecting on the year that was and planning intentions for the year about to begin. This help me set guideposts of intentions for my coming year. This ritual also helps me get a sense of how to pace myself and live my life fully. Like many of us, 2020 threw me a for a loop. I sat with core words like reflect, rest, reset, intention, strength, safety, empathy, and encourage. And while all the words sounded good, they just didn't speak to what my body was quietly and consistently whispering.
In the final months of 2020, i saw where i was able to show up for myself, my family and community. I also saw where that was harder for me. I came face to face with my needs and realities and did an evaluation of what was at the core for me.
For instance, i love to learn, both personal courses like learning how to do macrame, as well as professional development. And yet, when i continue to be a perpetual student, i don't always have the energy to step into the learning and allow time for a new role to emerge. After several courses in 2020 (i think it was a record high of 12), i am taking a pause and stepping sideways.
I rise.
I am stepping into the wings of the emergent butterfly, the phoenix using from the ashes of 2020, and of the moon showing its wisdom in all its phases.
I don't mean I'm going to rise and and claim space that is not mine, or even to assume I'm an expert, but rather rise my head up high and take what is mine to feel proud of. To not stay quiet, to walk with an embodied dignity, grace, and confidence. This is what my core essence is speaking to, to calling me towards.
"Just like moons and like suns with the certainty of tides, just like hopes springing high, still i RISE" Maya Angelou
I rise as a white woman who wants to do the hard work of addressing and challenging white supremacy.
I rise as a feminist who is a mother raising feminists and co-conspirators for change
I rise as an adult who wants to be wild, free, and fully human
I rise as a woman who wants to embody her feminine strength
I rise as a therapist who knows, shares, and loves working with people to heal from trauma
I rise as a human who is working on healing her Inner Child Part who wants to Play
I rise as a being who is attuning to her mind body soul
I rise as a partner who is working on her reactions versus seeping knowing around what she needs in the moment
I rise as a leader who has been doing work on healing trauma and gender-based violence for over 20 years
I rise as the imperfect person who believes that change is possible
What does that mean? Well, stay tuned for some exciting projects i have in the works. For now, there are two things i want to share with you.
Reflections of the Year Guidebook
First, i created a workbook to help you find your word, goals, or dreams for 2021. After years of doing others, i compiled and created a guidebook that speaks to me. It's a 14 page booklet that you can get and use for yourself. All you have to do is – click the link to get your own free copy!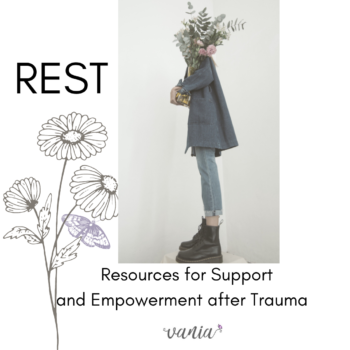 Secondly, the other word that kept coming to me was REST. Rest my mind body soul after the hard year of 2020. Honour the need for us all to rest, as we learned that more than anything, we need to rest during collective trauma, not be productive worker bees. Yes, we can pivot and work from home, but should we? I definitely didn't want the blurred lines of work and home balance.
Then, i made a connection to something else that is near and dear to me – supporting women who have experienced abuse and trauma. A big part of my work journey to now has been supporting women (many who are parents) who have developmental trauma and/or experienced intimate partner violence. As the trauma impacts all aspects of who they are, it's no surprise that parenthood has been made even challenging.
So, I give you REST – Resources for Empowerment and Support after Trauma.
No one else can empower someone. Each of us has capacity to be resilient and heal after trauma. This is at the essence of post-traumatic growth. We cannot do this work in isolation or alone. This is where collective healing comes into fruition.
This has been a big part of my individual support to people, and I'm excited to see where this chapter takes me next. As community is so important to me, I hope to foster a community via groups, webinars, and some other intentional sharing of resources. I have been sitting in stillness and have had my thoughts lead me to some great ideas! So, stay tuned for more articles, resources, and programs coming up later this year…