Last fall, l I devoured the show From Scratch. It was supposed to be eye candy, and a guilty pleasure show to watch. Does this ever happen to you – when you want to read a book or watch a show to get an escape from life only to find that story exactly reflects what you're wanting to run away from or need a break from? This happens to me a lot as a therapist, as a mom, a woman. There are times when I just want to watch a show and it ends up being about sexual violence or intimate partner violence, or something about postpartum psychosis. If you are new to my website, these are all things i support people to heal from as a therapist.
This happened also with the beautiful show From Scratch, which is based on a memoir. Spoiler alert: expect to cry and witness grieving in action as well as a helpful depiction of how people should plan for their inevitable end. The show did such a great job giving us more literacy when it comes to grief – planning for our end as well supporting others in theirs.
We can't think our way through grief, we can only feel it. We feel it in our lungs, or in heartbreak. It feels like a messy ball of yarn that is messy, and full of knots. The only way to clean it up is to tend to it directly. It's ever present with me when I'm going to bed. That seems to be the only time that I can sit with my mom's presence and not get interrupted by life. Sometimes I think I'm a glutton for punishment when I do this to myself. In fact, it's my way of honouring my healing journey because I know that the grief work gets interrupted by life time.
Is it ironic, how honouring death gets interrupted by living in the present?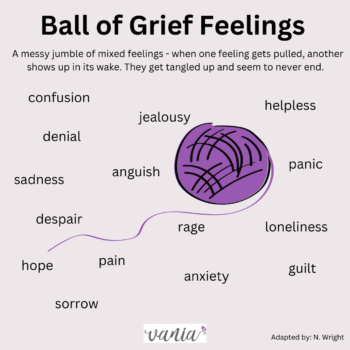 We have moved away from seeing grief as a linear step-by-step process. Instead, i love the visual reference of water and a Whirlpool of grief. Water is one of the 4 elements and it represents grief, flow, and change. As a knitter, i also love how pulling yarn also symbolizes for us a tender, messy, and at times hard process of grief work.
One thing I took from the show From Scratch and in my own learning about loss is that we need to have grief literacy and embrace the concept to "die wise". This is the intentional practice or plan for it. We need to plan ahead and tell her loved ones how to create ceremony for it, talk about it.
To die wise is from the work of Stephen Jenkinson, and his book of the same name. I first learned of his work through Kimberly Ann Johnson when she invited him to her podcast. I introduced both of their work to my partner and we now gather together around grief work.
Stephen Jenkinson shares that unclaimed ancestors show up as ghosts, especially when there is no ritual for ancestors or ways to honour them. We need to honour endings. This is where ritual comes in. His work isn't geared at grievers, but actually at the person dying. How do they want to be mourned, or laid to rest, for instance.
We can't be afraid to talk about death. Our own or our loved one's.
This is why i loved the series From Scratch. They intentionally talk about death. They plan for it. I won't give any spoilers away and yet there is one scene at the end that will stay with me. The matriarch of the extended family has an outfit put aside for when she dies. This is what she wants to be buried in. She shows that to her daughter-in-law.
My mom did this for me. She had a note about her requests. She showed me where she put it. I always wanted to bypass the conversation, being so unready and unskilled in seeing the importance of these questions.


Grief is the price you pay for love. No matter the size or what others may deem as proportional. Martín Prechtel shares in his beautiful book The Smell of Rain on Dust: Grief and Praise: "the inability that many of us have to grieve and weep properly for the dead is deeply linked with the inability to give praise for living….When you have two centuries of people who have not properly grieved the things that they have lost, the grief shows up as ghosts that inhabit their grandchildren."
I recently took part in a 2-month long weekly grief group. It was important to me to be a participant, as a way to walk through a gate of grief. I am not on the other side of grief, but rather a more intentional apprentice of it now. That is the threshold i stepped through. The facilitator, Syanna Wand, has experienced loss herself and as a trained somatic trauma coach, i knew that a group called Held would be a great community for me.
I do a lot of holding – of my children, my partner, my clients, my community. It was so comforting to be held here weekly. To know i was a key member and not have to talk too much about it. My place of belonging was not questioned. The final session was the most impactful as we had an extended grief ritual.
The group was part-book club as each week we read parts of Francis Weller's book: The Wild Edge of Sorrow. He does such a beautiful job breaking down various gates into grief. As not all grief is experienced with the death of a loved one, his book allows for an expansive way to bear witness to many gates.
Gates of Grief
1 All that we love we will lose
2 The places that did not receive love
3 The sorrows of the world
4 What we expected but did not receive
5 Ancestral grief
Other optional gates are Trauma; the harm I have caused to myself and others (from Sophy Banks) and Anticipatory grief – fear of what is to come (a concept of Sarah Pletts). You can read more about these gates HERE.
"Grief is subversive, undermining the quiet agreement to behave and be in control of our emotions. It is an act of protest that declares our refusal to live numb and small. There is something feral about grief, something essentially outside the ordained and sanctioned behaviors of our culture. Because of that, grief is necessary to the vitality of the soul. Contrary to our fears, grief is suffused with life-force…. It is not a state of deadness or emotional flatness. Grief is alive, wild, untamed and cannot be domesticated. It resists the demands to remain passive and still. We move in jangled, unsettled, and riotous ways when grief takes hold of us. It is truly an emotion that rises from the soul." ~ Francis Weller
Our last group meeting, Syanna let us through a grief ritual. It was a virtual group and we met on a Thursday evening. Anyway embraced the ritual wholeheartedly. I cried through it. I wrap myself up and blankets. I let my candle and had my ceremony Florida water. Syanna guided us through writing as a way of honouring our journey. I wrote this poem that I share with you now:
Needing to be Held
Warm Belly
Soft heart
Tears flowing
Sadness throughout
Then a pause comes
It tethers me to now
I hear her urge me to live my life
It makes me miss her voice and all i couldn't say
I miss her
I miss being mothered
One of the participants shared these powerful words and they really sat with me: "I want to be alive while i'm still living." This is my mom's legacy – to love and live my life. Because she couldn't and only wanted that for me. One way i have found meaning in my life now is that i am more well-versed, prepared, and comfortable to talk about, feel fully, and sit with is grief. I an an apprentice to it, surely, and it's a role i am surrendering myself into fully. This article is one psychotherapist's personal account with the loss of her child, and how it shaped her life, and how her work has been transformed. She shares another gate into grief – attachment grief. She walks with people through their grief journey. I am so honoured to do the same.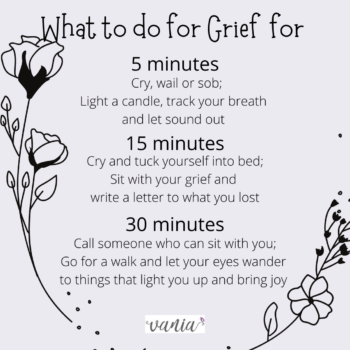 I have learned a lot from this experience. I don't always want to reckon with it. I don't want to reconcile that i'm still not ready, to be here without her. I was just starting to embrace just how much i needed her all along. I am still looking for meaning and yet, i have also found what helps me hold my grief with love and care. I am not running from it. I am companioning myself through my own experience. I have learned to sit with the feeling that comes up, and give it love and care. At times, it is solitary work. At other times, it is quite lonely. It is never easy and yet it can be quite healing. I am coming up to a year since my mom died. As i get closer to the day, the month, i can't claim to know how i will feel. What i do know, though is that i am resourced and more resilient. I am also soft and open.
The ache is always there as soon as i turn around. It's like an old friend, a companion waiting in the sidelines. Fuck these sad songs that show up unannounced on radio, unwanted at the worst time. They unbound me, untether me. They also let me surrender to feeling. Of love.