Sunflowers are my absolute favourite flower – they are strong yet fragile, bend to the sun, and keep facing upwards. I also love their cheery colour and reminder of hot summer days. I went with my family recently to a sunflower farm, where we were about to walk among hundreds and hundreds of rows of them. I took in the felt sense of this experience and it lingers in my body in a happy way (kind of like that smiling flower in the photo here). I've been practicing this a lot lately.
Since summer break is coming to a close this week (for many of us it feels like the end of summer as a whole), I want to share this experience with you as it may come in handy when you need to hold on to the good feelings in your body.
It was my anniversary this summer and my partner and I were able to have an extra long date. While it happened over the course of a seven-day long therapy training for me, we were still able to stay present in the date. It might be because I am immersing myself in somatic-based therapy work but we were able to put our good feelings from the date in an imaginary jar.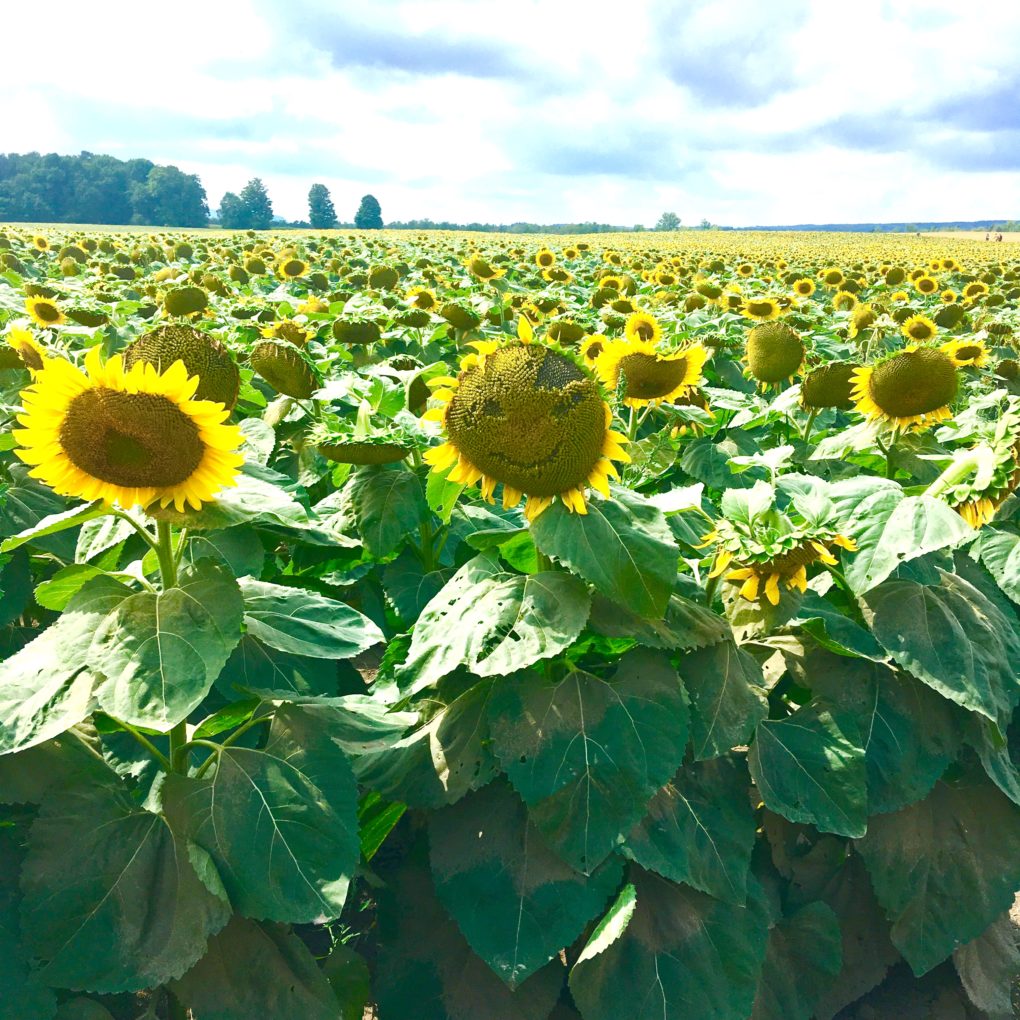 We love bike riding in the city, both with our kids but definitely without them as well. After a delicious meal at one of our favourite places, we took a long bike ride along the harborfront. It's such a gift that the city I live in has a great lake connected to it. As an ocean lover, i know that it may not be an ocean persay, but a Great Lake is a close second. As a water loving person, I know I never spend enough time in its presence. So, we decided to bike along a new path that is right beside the lake. It just opened recently – that itself was such a nice gift as we may not have done it with our children.
I was able to use the bike ride as a way to share with my partner more about Sensorimotor Psychotherapy (SP) and how it works. There are 5 core organizers that are the main base of how SP therapy helps connect the body to the mind both in healing trauma but also in everyday mindfulness. It's a great way to help good feelings linger in an intentional way, like an imaginary jar of a good date you want to hold on to.
The 5 core organizers are body sensation, five senses, movement, emotion, and cognition, and in that order. So on our date, we decided to blend all of them and this is what we came up with:
1) Body Sensation: My body felt like a warm glow in my heart and my core, and a freedom in my shoulders that experienced the wind
2) The Five Senses: The feel of air touching my arms, the smell of the lake, the beautiful skyline of the city, the sounds of life around us, the taste lingering from my delicious dinner
3) Movement: We brought awareness to our legs pedalling both up hills and around us. It was an incredibly hot day so we also noticed how the pedalling felt with our warm bodies
4) Emotion: I carry with me now such a deep sense of love and happiness both for that experience, to share with my partner, and to be with my partner in that moment
5) Cognition: I acknowledged how grateful I was that we had that time together, and shared this talk with him so that we could hold onto it together
Now when life gets in the way, and we are getting stuck in the grind of everyday life, all i need to do is to recall this date and my body will respond. I will embody the memory and not just think about it. When I'm forgetting a detail, all i need to do is to recall the smell of the lake, or the body sensation in my core. As i bike daily, i get a quick hint of the memory whenever i feel the breeze on me or grip my handlebars. I don't need to recall a big part of the story, but rather a single moment and my body and mind are united in recalling the happy moment. It's a lovely way to practice more intentional felt sense of positive moments – we are so prone to minimize them and rush through them. It's like I'm peering into that jar of happy memories or giving myself a warm hug by recalling this night.
As summer is coming to a close, you can try this tool. What memory from these last 2 months do you want to cherish and hold on to?