I'm not one for reality TV shows. I think they sometimes feel too close to my work life and I want to be able to get a break by immersing myself in fantasy with a fictional TV show. I also sometimes just don't want to be reminded of the messiness of humanity. My body can't relax when I'm watching so much cringe behaviour.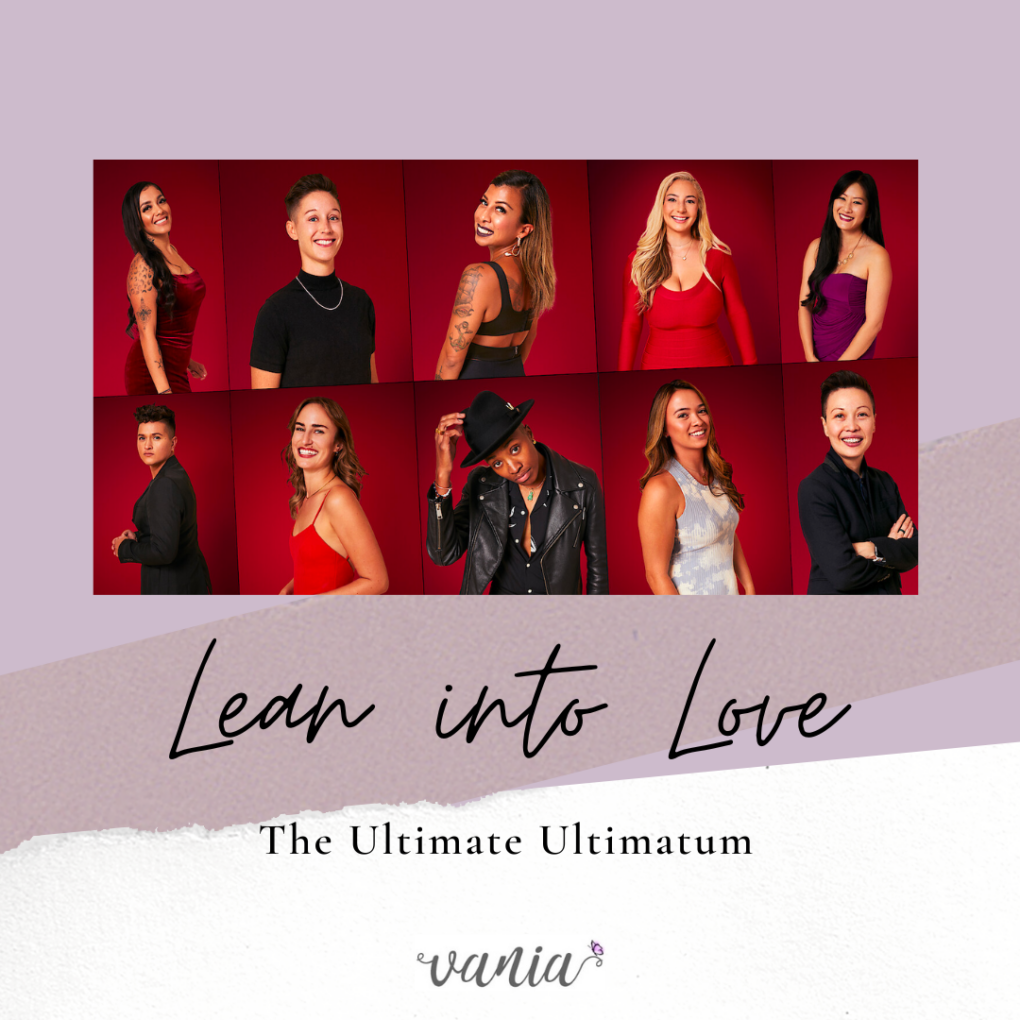 And yet when I saw not even a trailer, but just the title cover on Netflix of the new show The Ultimatum: Queer Love, I knew that I was going to be hooked. I feel like you can't go wrong when a show about real love and relationship also highlights (and in fact centres) queer love and lesbian relationships specifically. A show like this is necessary to portray not only the diversity of relationships but also what healthy relationships can look like. And to be clear, we can all learn a lot about love from lesbian relationships. For anyone who doesn't know the story, the show is about couples where one person who gives their partner of some time the ultimatum to propose to be married or the relationship is over. Over the course of 2 months, they then can "date" other participants on the show to see if other (better) fish are out there.
Okay, i feel called to say that it's not lost on me that i'm about to therapize people on a show. I am by no means an expert or have any direct knowledge. While queer myself, i also cannot claim to be an expert of all relationships. These are just my reflections. I also don't know how these couples were picked, and at times their gender pronouns and relationships styles were not clear. Thanks to the streaming network i'm sure, they kept things a bit too 'easy' to fit into boxes. It was queer love with a for-TV attractiveness lens.
Oh to be a fly on the wall….
Having said that, there is still so much to say about the show, but some of the themes that really stood up for me are a) attachment styles and how they get in the way, b) we need to lean into love, c) communication is the key ingredient to a good relationship, and d) our conflict styles can really wreak havoc on relationships.These are themes that i can get aligned with. In fact, these are hot topics in my work life and personal life both.
Attachment
One key theme in the show is the impact of attachment styles on relationships, and how they play out. In fact, if you want a quick study of attachment styles in action, this is a show to watch. If you need to get a summary of attachment styles, go to my previous article. The whole point of the show is a bit of a mind field for insecure attachment styles. For someone who has an avoidant attachment style, or more so disorganized attachment style, being given an ultimatum – forced into a relationship – is a huge red flag, or a trigger at times. At the opposite end of this continuum, anyone who has ambivalence in a relationship needs this certainty. So they're kind of coming at it from both sides of a messy, and yet entertaining, coin.
On the attachment scale, there was clearly a most avoidant of commitment winner: Vanessa. They clearly wanted to create a villain of the show. Why do shows need them in the first place? I think that Vanessa wasn't a villain at all, but rather someone with an avoidant attachment style who didn't want to be tied down and was struggling with commitment issues. She also is a human having a human experience, and was clearly nervous about the experience, so a way she defended herself against vulnerability was to armour up with sass and bravado.
Knowing what our attachment style is can really make a relationship last. It allows space for context and understanding. We don't necessarily have 1 staple attachment style for all our relationships, but there can be one that plays a default time and time again. Knowing our attachment histories and love languages together can be the missing ingredient for many a failed relationships.
Choose Love
Speaking of love languages, we need to "lean into love" as Tiff would say. It's not always easy but it is needed to do the work. It helps partners remember what the whole point of the work is. It gets them to a shared goal and value – love is under all the mess. When we choose each other again and again, it deepens our commitment to do the work. Or at least it is supposed to. The act of love is a continued commitment, as love is a verb. In some of these relationships, that was the missing ingredient. I don't think they knew what the work entailed or had the determination to do the hard and long journey of healing.
One thing that stood out was that some of the participants couldn't see the person they were with, but rather the version they wanted them to be: I'm looking at you Yoli and Mal, Xander and Vanessa. Love bomb, much? These four, and Lexi, were quite entangled. This happens so much, and yet i think people get stuck in the feeling of limerance, that they get confused and hurt when the real relationship shows up.
Sometimes, you have to be uncomfortable to move through something. When we learn how to sit in the discomfort of allowing space, this is where the change happens. Otherwise, we stay stuck in the endless loop of stalemated relationships. Ha – We are threatened to become Stale Mates! This is what seemed to happen to Lexi and Rae. Or at least that's my version of events. I'm not against Lexi knowing she wanted marriage at 24, but rather how much she dominated the energy of the room and didn't allow space for others' to shine.
Communication and Conflict
I have a lot of time for deep, meaningful chats. This is something i loved witnessing – the participants really shared with each other and the show what they were looking for in love and life. They really talked to each other, and especially in their quasi 'living together' experiments. Some have called this season boring because of all the talking, others wanted more sexual action. And this is what i found to be the gift of the show – people showing the intimacy of deep relating and attunement beyond the bed (for the most part!).
Of course, it wasn't always sunshine and roses. A lot of arguments happened because folks would get stuck on the mantra "Live your truth"….but obviously not if it directly impacts me. I think it would help so much if folks could be more honest and direct with their non-negotiables like a dog or kid, or having a baby. This truth has to be with themselves first and foremost, but also with their partner.
Another great lesson was this: Sometimes we may be on the same side but still disagree. It's how we hold space for ourselves and each other when we disagree that matters. We got to witness conflict between the couples, and the ways partners respond to it. I know this is where shows like this get their 'drama,' but in real life people would not sit on the sidelines watching people bicker. We either leave or intervene. As humans, we still have a long way to go to learn how to resolve conflict in a healthy and useful way. I so wish kids are taught this in school, as opposed to the messy real-life version on the schoolyard. Watching the couples argue on the show was at times heartbreaking, and other times i was right there with them because they were working through shit.
Sometimes a partner needs time away to cool off and self-regulate. What matters is that all parties understand this and the time needed gets shorter. The person needs to do things to self-soothe so they come back to the conversation or shared space more resourced. I am trained in Emotion-Focused Therapy for Couples, so an occupational habit of mine is to track conflict styles and cycles. I did a lot of tracking while watching this show (and let me be clear, i binge-watched a few episodes and waited impatiently for the finale) was call out folks' conflict styles. Attack – Lexi, withdraw – Aussie, compromise – Xander.
"Those butterflies in my stomach that I thought was meeting my love of my life are actually warning signs. It was my nervous system's way of telling me to stay away." vania sukola
Healed People Heal People
Sam and Aussie's relationship is especially important to watch. At times, it is hard to watch, AND it acts as a reminder that we heal in relationships. We especially heal old attachment wounds when in healthy relationships in the present. I don't want to give you any spoilers because this is MUST WATCH TV. And yet, I think it's important to mention that this couple worked on their relationship needs, and not just the game. They worked on creating a solid foundation within themselves first, so that the relationship stood on solid ground. They started to heal together, and did some hard work. Aussie especially did some work to unpack their past traumas. Sam, to her credit, had obviously learned Aussie's self-regulation needs as the cues they were. She more specifically did some of her own inner work to regain her voice and sense of self. When Sam shared that she was learning how to "listen to my own voice now" – that was TV gold for me. They are a good example of what trauma-informed relationships look like. This can be a whole article on its own – the makings of a trauma-informed intimate relationship.
They were able to hold both their needs at equal importance. I am so rooting for them.
Other relationships were not so lucky. Some of the participants seemed addicted to love, and became volatile. It's a good reminder that love on its own is not enough. We need to have our reactions tempered. One couple in fact had so much conflict in their relationship that it lead to intimate partner violence. I don't know if this outcome happens in previous versions of the show so I want to point out any relationship and community can experience intimate partner violence, lesbian/same sex couples are not exempt from this outcome. Abuse is not about gender but rather power dynamics and a need to feel in control. It is also connected to trauma bonding that stems from intergenerational trauma and the intersections of a person's life.
Sternberg's Love Triangle model reminds is that a healthy relationships displays all three of these pillars: commitment, passion, and intimacy. So, here is a summary of some other key lessons: Sex is a big part of healthy relationships and time is not enough to heal wounds. Love needs to be kind, and patience is a virtue. When we are committed to the relationship, we also agree to the ongoing work that it entails.
Remember, we can learn a lot from lesbians. Sure, the show is not perfect and as a genre, it is addicted to drama. Some parts were clearly staged. And yet, it showed how honest the people were about their needs and wants. It showed healthy communication, access to deep emotions, and a rich community of people in their lives. I loved meeting participants friends and family – they clearly had their loved ones' best interest in mind. One concern I have is that either they don't have therapists in the background or they don't show it. I would love for shows to actually include even just one segment what a therapy session might look like, or just support for someone when they are leaving the stage or needing to take care of themselves. Netflix if you're looking for a reader like this, or a consultant, i happily raise my hand here.