Another year has passed. Another year faced with challenges amidst moments of joy. I'm sitting in the luxury of my bed and new duvet, reflecting on my year, on my birthday.
The word that held me was RISE. It was such a fitting word as it came up over and over again, repeating its way of anchoring me. This year, i was more intentional in asking myself questions that helped me honour the word. For instance, i would ask myself "how does this decision help me rise?" Or at times, i would call for it to help me rise when i was feeling pulled down.
The other theme that came up, more so unplanned, was PLEASURE. I sought out ways to enhance my pleasure practice, whether it was summer play, food choices, dancing in an embodied way. I had some other key words that also held this word for me: Rest, Initiate, Soften and Enough. I promise, i didn't even know they spelt RISE until i sat with them a bit. So, between these various words, a theme came forward. Over the course of the year, each word was an extra dose of support. In the early part of the year, i took that time to slow down and rest as i was needed to tend to my children during the hardest part of the year. I didn't push myself to try new things. I didn't sign up for more than i had capacity for.
Then in the Spring, i started to notice what i was being called toward. I started to sign up for long-overdue projects and courses. I started to initiate more joy in my body and passion projects. Come summer (my favourite season if i had to pick one), i was ready to soften and bring pleasure in more mindfully. And now, as the year is winding down, i have been telling myself that i am enough. My work is enough, my good is good enough, my effort is enough.
I love how these words hold meaning for my life. They hold me accountable as i find them connected to my values, and what is important to me in order to live my life with love.
This is why the word of the year practice is so grounding for me.
I also wanted to take a moment to reflect on the year under the umbrella of Mind Body Soul alchemy. This balance is so important as it connects us to our deeper meaning. It also shows us what is necessary to heal or hold.
Mind
Wow, did i ever read a lot. I read books for pleasure, as a way to escape, as a way to focus, and to learn. I also took several long coveted courses to better myself as a therapist. I enrolled in a sex therapy course that i have wanted to take since i did my undergrad at University of Guelph in 1998. Talk about a bucket-filling accomplishment! I'm so excited about this endeavour. It has been such a gift for me as i diver deeper in supporting people with their sexual selves. I also did some great somatic-based therapy courses. One was with Peter Levine. He is like the grandpa i never had. I was so honoured to see him live (via Zoom of course) in action, versus a recording or for a short talk. It was icing on the cake that he co-lead this 2 day training on sexual trauma with Kimberly Ann Johnson, one of my mentors. Finally,I am enrolled in a year-long deep dive in Sensorimotor Psychotherapy and am really into this as we are looking deeper at the impact of attachment trauma on the body.
I made a point to not enrol in too many courses, but rather balance my learning in other ways as well. This commitment to Rise with my work was because it was my first full year as a full-time private practice therapist. So i took on new challenges: i was a podcast guest (take a listen HERE and HERE if you'd like), i started supervising new therapists and an amazing group program for survivors, as well as a guest speaker in several amazing conferences and courses. This work excites me as it is based on the community work as a feminist therapist.
Not everything has been challenging my mind for work purposes. I have been playing with new ways to have a Beginner's Mind in my creativity. I have been learning how to play with polymer's clay to make jewelry. And, i have intentionally been giving my mind rest from unnecessary overwhelm and busy-ness. I'm so grateful i learned the concepts of 'continuous partial attention' and 'soft fascination' this year!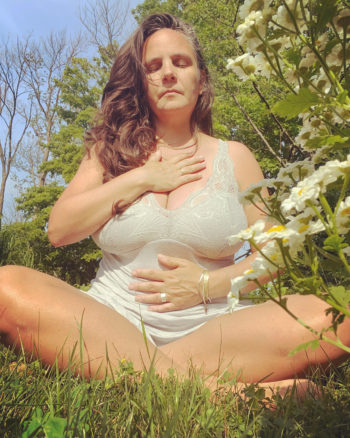 Body
Dance has been a big part of my life since i could walk as a toddler. It has become even more of an anchor these past 2 years. I have used it as the foundation to help me embody pleasure and joy. I have not been in a yoga class or any in-person community these last 2 years, and i really miss it. I definitely see the benefit of sharing space with others for our nervous systems. I am grateful for shared laughter with neighbours who i am close to, and a hearty chat with a friend on a walk. Recently, i went out with friends for a big dinner out and it was the decadent treat my body and soul needed.
As i have been saturating myself with all things Pleasure this year, i also have been playing more with my own sexual self; i treated myself to some new toys. I also have been tracking my responses to things by listening to my body and what it needs. This has been somewhat transformative as it is really showing me that i can 'widen my window' simply by tracking my capacity in a given moment.
One resource that i have been working on is my own breath. A few years ago, BREATHE was my word of the year, and yet i didn't do it justice. This year, i have been listening to the guidance of Amy Kuretsky and her teachings of breathwork. I also took a course with Annie Bray recently and it further solidified my practice. As a moon lover, following the moon's rhythm has been a landing even more firmly in this practice.
Soul
After years of playing on the surface of my soul, i now am ready to go a bit deeper. I have been noticing a calling to me. I'm not quite sure what it is, but i know its related to some inner work and reclaiming my feminine self. As i'm on the cusp of this change, the next step in my spiral path will possibly take me to do some goddess soul-searching work. I'm ready and also after this past year, i feel like this work is necessary. I'm excited about this so stay tuned!
Tending to my soul includes Rituals – everyday ones like a burning candle or a morning coffee in the garden. Big ones like honouring holidays and seasons. During the darkest days of lockdown, it was the rituals that kept us afloat. These rhythms that reminded me of my resilience. These are the practices of "soul vitamins" that i cherish.
Another way i nourish my soul is through community. As this was strained this year, i had to work hard at keeping these connection and doses of soul vitamins. Something i did for first time this year was share my card reading ritual. I gifted a reading for a friend's 50th birthday; i read to friends at an All Hallow's Eve party; i shared a few readings with community online. This was such a lovely way of sharing more of me, it felt like honouring my calling. As i dive into some Goddess Archetype work, this practice will be a big anchor for me.
Since we were home so much, we took this time to do some home renovations. Some were long overdue necessities, others were painful (read this journal for a reminder!). All were gifts for me soul, as they showed for me how nourished i feel at home. It really is a sanctuary for me. Now that i work almost exclusively from home, this work was even more important. Working from home has its own list of both/and so making some changes helped me keep that balance and boundary that i need to stay within my window.
As i spoke above already, having a word that anchors my year is especially supportive for my soul. This year, i feel like i met my words of RISE – rest initiate soften enough. Now i'm ready for what comes in 2022, and i am holding my place in the unknown.
My words for next year are almost ready. This gentle practice holds space for my feelings and dreams. I am putting the finishing touches on my guide Reflections of the Year booklet. If you want to learn more about this process, you can join me by signing up for my newsletter – the link is here. My next journal will share more about this ritual.
Here's for another spin around the sun.