I want to be that mom. That mom that is always ready to have her kids' gaggle of friends over on a whim or moment's notice. That mom who has her kids and their friends come to her for support or guidance.
As my kids get older, i am starting to see just why i want to be that mom. It's because i'm a therapist and am well versed in hard vulnerable conversations. The ones that need to happen and rarely don't. It's also because i so needed that in my own childhood. My mom couldn't be that for me. She tried – she got the snacks ready, she hosted the sweetest birthday parties in my younger years. And yet, i couldn't turn to her for the big stuff as i got older.
For one reason, it's because she was faced with her own big stuff. I know this because she turned to ME for support and guidance, for solace and to grieve.
When my youngest kid's friend recently had a period scare, i was that mom – that mom who was not only at the right place at the right time, but also that mom who they could come to in their embarrassing need for help.
And it was a few months later that i was told i made it to the Cool Mom Club. Did you know that was a thing? It's not really. I made it up but i know that we all claim to not care about it. That we would rather be the kind or funny mom. I don't want to be the (insert sport here) mom, or the chauffeur mom.
I do like the sound of the cool mom though.
It means i am someone who is safe to turn to for embarrassing stories, hushed secrets, for questions that are hard to ask but important to, and to feel less alone in this thing called life.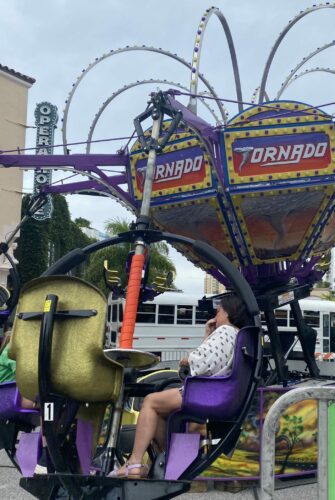 Recently, my cool mom status was put to a further test when i let my kids go on amusement park rides on New Year's Eve. The test really came when i agreed to go ON a ride. You know the one, it's where we go sideways and backwards really fast and lose all sense of gravity. My first mistake was thinking i was not only cool enough but young enough. My second mistake was picking the seat for pure colour (it was PURPLE) and not logistics like it spins more.
In the end, I did get off the ride when it was over. I also needed to take care of myself by sitting on the curb for quite a few moments to gather my bearings. It also meant that my family was able to care for me while i took one for the team. My daughter also was grateful to share the experience of this ride that took me by surprise in more ways than one.
"Always appear what you are, and you will not pass through existence without enjoying its genuine blessings, love and respect." Mary Wollstonecraft
Now that my kids are not so little anymore, their pains and feelings are getting bigger. They are in fact very similar to 'real life' stuff like managing conflict with friends and peers, healing their own heartbreak, and figuring out who they are. Me eldest child is starting high school in the Fall, and is really thinking about who they are. My youngest kiddo is dealing with friend drama and is heartbroken with a recent full-blown conflict with people she thought were her best friends.
When i hold them in their pain at age 2 – and it's about sharing their favourite toy – i can be there to hold them in the much bigger life lessons. I can't stop the pain from happening but i can be there to hold them so they are less alone in the pain that has to metabolize and heal.
This is what i truly wanted and did not get as a child. I had a bully and mean girl drama in grade 6 that was very isolating and alone. I was alone in my suffering and i do not want that to be the experience for my own kids. My mom didn't really know my friends as i got older, and my peer orientation became so separate from my life at home. I also have to track my own reactions so that i don't transfer my scars unto my kiddos. What is mine is not theirs. Thank goddess for good books like THIS ONE that keep me on the right path.
I may not sing in key, but i also know a lot of the best and most current pop songs, even if they are sourced by Tiktok. By the way, while my status as a cool mom is valid, i am not that mom that will allow my 10-year old to be on Tiktok or have a phone. I'm still very much a cool AND feminist eyes-wide-open mom.
This recent experience also helped me anchor my word for the year, which is SURRENDER. I don't see surrender as giving in but rather soften into trying something.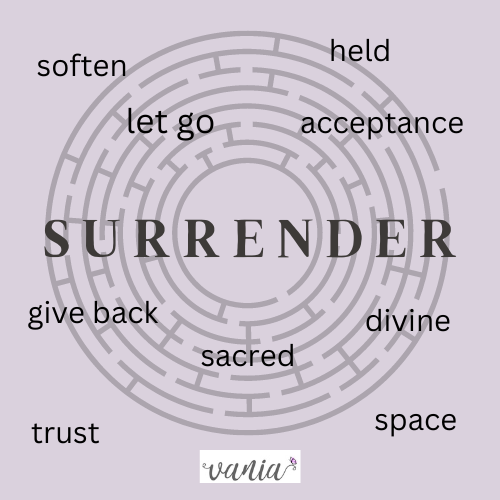 Surrender is not giving up. It is much more active than that. It is not passive, but rather permission giving. Surrender is sovereign. It is not giving my agency or power to someone else. Permission from within to myself.
It also means i do not have to do it alone. Surrender is a very intentional acceptance of softening, which allows for the gift of vulnerability of asking for help. It means reaching out at the same time as turning inward. So, it's time for me to read the beautiful wisdom of Sil Reynolds' book Mothering and Daughtering. She co-wrote it with her own daughter when she was a teen. I'm ready now to accept my new phase of motherhood is to teenagers – this is new terrain indeed. Just when i thought i knew what i was doing with school-age children, they are now blossoming into adolescence.
So, as all rites of passage remind me – this is the ebb and flow of life. It is the birth/death/rebirth cycle. Speaking of witch (ha ha!), this year, I plan to surrender to my witchy side, to the divine feminine in me, to the goddess. This is a part of me I have been keeping hidden and quiet. I'm ready to surrender to this calling. Surrender is spiritual and divine, it is acts of ritual and an all-in attitude of acceptance.
I'm also planning to offer something new in my work. So surrender is needed to take this next step, to stop resisting this dream. Stay tuned! Hint: I'm putting the final touches on a course for parenting after experiencing trauma!
Surrender is also needed to help guide me away from stuckness. It is about making peace with the messy parts of life. I hope it gives me space and new ways that are aligned with the me I have evolved into. Not the old me.
Each year, I find words that act as guideposts or lights for my main word. Besides the theme for each month, these words play a role in helping me make a decision. Some are seasonal and some are more regular visitors.
Let's see how I will surrender myself into this.