"I have already lost touch with a couple of people i used to be." ~ Joan Didion
October always feels like a month of change. It's hard not to take note of the metaphor of things coming to an end with all the leaves falling to their natural completion. Humans are more like nature than we ever want to admit.
I'm no different and now I'm ready to not only accept this inevitable passing of time, but now I mean to surrender it. As SURRENDER is my word of the year, i have been on a journey with it this year. Now it's become an invited guest on my adventure called life. I'm not going to lie though, it's still a lesson i am learning: A part of me is being pulled through a new threshold, and at the same time another part wants to remain the same.
Initiation is the paradox that reflects a new version of me.
I spoke about my entry into High School Mom terrain last month. Besides this key rite of passage for my kiddo (and therefore me on the periphery), I am on the cusp of another massive personal developmental change. I don't just mean menopause, but something else that accompanies it – the end of a stretch of 7 years of growth. In both Traditional Chinese Medicine and Rudolf Steiner's 7-Year Cycle Model, the pattern is based on a process that changes every 7 years. The phase i am in now is the time of Soul Searching that ends at 49. This is the time for Wonder for the Spirit Self. As i'm near the end of it, i'm glad that i know this – the end of this stage is coming and i don't have to be surprised or grieve it too late.
Speaking of Perimenopause, i would be remiss not to also acknowledge it here. Especially as October is World Menopause Month. I now have so much more understanding of my mom's life, and also grief and regret that i did not ask her more about this change when she was alive. I rarely looked at her for guidance in general, and i deeply regret that.
So I turned to the second best resource, one that I share with my mom – books.
In the book, 7 Transforming Gifts of Menopause, the author describes how having clarity and courage, expanded time and spiritual freedom, as well as access to our authentic self can be the alchemizing ingredients that we need to step into this major and unspoken rite of passage.
And maybe, just maybe, it's worth unpacking an old theory about this liminal space with a more feminist and critical lens – as Rites of Passage was first deemed a concept by a well-established and white anthropologist, it is safe to assume he did not have everyday regular folk in mind, let alone women going through their womanly changes.
"Change and transition are not meant to be easy. With every shift you make in your life, whether it's a relationship ending, a job change or city change, a friendship ending, new identities emerging, or loss, you will inevitably experience both grief and expansion. That's the thing about transitions. You will lose something, but if your eyes and heart are open, you will grow. Even through the hard stuff. You will grieve and you will grow. Make sure you hold space for both." ~ Vienna Pharaon
I feel firmly rooted in this stage of my life. I am starting to reflect on how it got here. To be honest, some of it was a surprise, and some of it was under the cover of being in lockdown. Some of this journey has been a way of grieving the loss of my mom, and accepting this new place i live in. I am embracing this balance of tending to my own life in front of me while also holding space for my ancestors and their unfinished lives.
And so yes, some of it was very intentional.
This is me starting to step out of Mother and into my Virgin Era. I know that may not make sense because the word carries a very different meaning. Think more like a good virgin olive oil, or virgin wool – pure onto itself. In Marion Woodman's work, a virgin is a woman who is whole unto herself. She is awakened to live her life more fully and intentionally for herself. I think it's also about finding balance. This archetype occurs in a woman's life after she becomes a mother, and before she enters elderhood. Most don't get to live in this place.
A big part of this is because patriarchy has taught us that our worth as women is tethered to our ability to mother. When we are older and deemed too old to bear children, our short-lived and near-sighted worth becomes obsolete – in the eyes of a male-centred world that is.
"I think midlife is when the Universe gently places her hands upon your shoulders, pulls you close, and whispers in your ear: I'm not screwing around. It's time." ~ Brené Brown
Archetypes Can Guide Us
Recognizing that i was in this transitionary stage of no longer a young mother anymore, and not quite ready to be a Crone, i knew i had to turn to who has been here before me. So this year, a goal of mine was to be a student of archetypes. Who better than these wise elders to give me guidance? More specifically, feminine archetypes, the divine or sacred feminine, as well as goddesses that i was never curious about before. This commitment lead me to Maureen Murdock's reframe of the Hero's Journey – which she calls the heroine's journey for the path of the fool. I love how she unpacks the various stages and turns. This website offers a great guide if you are also curious and want to dive deeper into this work.
Most of us have heard of the triple goddess archetypes – the Maiden, Mother and Crone. But did you know there are more feminine archetypes? Like Sage, Mystic, Warrior, Lover, or Huntress?
In reading the wonderful new book Sage, Huntress, Lover, Queen by Mara Branscombe, i'm noticing that both the Sage and Lover are aligned with my journey to Virgin. They are midlife archetypes for women. They are all whole unto themselves. They intentionally bring together their outside relationships and career to come into unity with their inner self and life's calling. Their service to the world no longer outweighs their own inner journey. This is the practice is leaning towards wholeness, and not assuming one archetypes is the answer-for-all.
Jane Hardwicke Collings is a wise elder who speaks directly about this change. She has coined the term Sagescence to mirror the rite of passage that is similar to adolescence and matrescence. She shared that "sagescence brings with it many gifts. We become more self-focused and motivated to take care of ourselves. We are gifted with the opportunity to heal all the unhealed parts of ourselves. We fully align with the lunar cycle as this replaces our menstrual cycle. Our visionary capacity and intuition grow and grow. Our leadership skills arise or get stronger. And our orgasms get stronger and longer!"
Not only do we remain sexual and pleasure-seeking, i love this reframe that our pleasure is intensified in elder years, not diminished as is usually the story.
When we know that our personal story is reflected in an overarching archetypal one, a sense of relief and being seen is felt. Sometimes, it's a felt sense of understanding and validation that we get. I know for me, i feel less alone – this is my story and many before me. Now my inner voice that has been calling for me can sigh out a bit as she knows i hear her calling. What's different now is that I'm less afraid to ignore her.

How does this stage of life look? I'm glad you asked because it's wonderful! For one, we get to go out again and do things just for the sake of fun, however that looks like as the 47-year old i am. It's now that i'm starting to really enjoy date nights with my partner, instead of the transactional dates that helped us survive as a couple in early parenthood. I am taking dance classes and attending women's circles again. I have even gone to some weekend retreats. Some of you may have been doing this all along, and that's amazing. The difference in this stage is that it's not to balance or get a break from my mother role and work. Rather it's because the call to work as a mother is less hands-on, and it's been integrated into my life as a whole (see that word creeping in here?)
I have been a Thousand Different Women by Emory Hall
make peace with all the women you once were
lay flower sat their feet
offer them incense and honey and forgiveness
honor them and give them your silence
listen.
bless them and let them be.
for they are the bones of the temple you sit in now.
for they are the rivers of wisdom leading you toward the sea.
As I am crossing through this portal into this next stage of life, my life, I am feeling more certain about it. And I've been tracking the guide posts that have been lighting the way for me. I've reflected on this and have noticed a few key elements that have been anchors for me during this time. A few years ago, my word of the year was rise and since then I've been really holding it close to help me steer my path. I find it holds a nice complement to other words I've had recently like breathe and Grace. As of course, I love a good acronym that helps us find our way even more clearly and succinctly so maybe this resource will come in handy for you as well.
How to RISE Up into the Latest Evolution of Your Self
1) Reflect on your Path to Now
It's important to always start with looking back on what was, what brought you to this point and if you continues to serve and resonate with you. We need to grief what has ended, even if it is at its completion. For instance, my work has evolved to reflect where i am now. I started my career as a crisis counsellor. My work pivoted when I became a mother, both to change my hours to ensure I had more balance, and then eventually even more when I would work more specifically with mothers in my private practice.
October is when i celebrate the decision to leap into my private practice full-time. It was 3 years ago this month that i made the leap. I have always wanted to have my own private practice as a therapist. And i have never looked back on my decision with regret or second guessing. This has been a wonderful testament on how i have leveled up, or evolved in my work and life in general.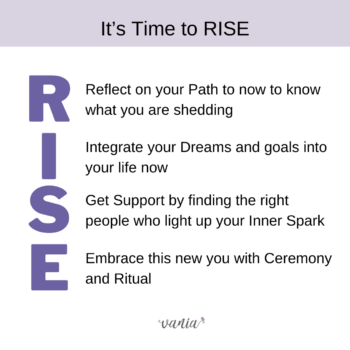 2) Integrate the New Pieces
Previous parts don't necessary have to go by the wayside. In fact, they can be honoured and acknowledged for all the work they did to get you to right here right now. Even if they are flawed and stuck – they served a purpose. In order to truly transform into this new stage, though, we need to cross the portal with both fit in. So, spend some time pondering just what versions of you do you still need and want by your side? What new roles, identities, or strengths will best serve you? For instance, i loved learning that my Sexual Self is not lost to me. She has been waiting by the sidelines too long and i can whisper to you now that by no way is it 100% true our libido is diminished when we age. We evolve in this way too, i think, actually. You did see the reference to orgasm being especially yummy later in life right? Enough said…
Of course, my Wild Lover is not my only new Part – i also am excited to have my Mystic, Sage, and Creatrix there as main characters of my life's soap opera.
A simple way to incorporate this new version of is is to start bringing your new goals or intentions into your everyday life, even in small incremental steps. This can be in a sacred morning ritual to help this transition. It can be an update to your skincare routine, a new lotion, or a way to adorn yourself daily. Oh, i can't speak more highly about the magic of adornment! It is truly an act of divination.
3) Support
We are social creatures, and our bodies are designed for connection – literally. We have a social engagement system built into our nervous system. If you are skeptical of this, just think of mirror neorons and oxytocin. We thrive in community with others who are here as well. The word 'coven' carries a witchy connotation these days. It's hard not to think of women in black dresses dancing around a fire. But originally, the term meant a group of like-minded folks gathering together. We need others to reflect back what we are thinking. We need others to also show that we are not alone on this journey.
It's hard to keep in touch with friends in this stage of life, because life keeps calling us away. So we need to be intentional about this commitment to our close ones. Find the people in your life that mirror back what you are passionate about. You may not be as alone as you think you are. Jen Berlingo refers to herself as a life traveller and her book Midlife Emergence is on my wish list. She speaks about this need to create a village, and one suggestion is to be persistent and keep inviting your people to gather. This is wisdom i have been implementing this year.
4) Embrace and Embody this New Self
I find this step is a key element of deepening into this new skin. Otherwise, things remain intellect-having and more transactional. We need to embody the change. One way i am doing this is by redefining my style and dressing my age. For a while, i resisted it – i was fighting the drive to dress a certain way. Now. i have come into my own with how i dress. All my younger parts are so happy to have me feel confident and in my element. This is my flowy dress era. It has always been important for me that my style matches the inner me. More importantly, not only do i dress my age, i now see the rite of passage of becoming this style also mature: How my pre-teen daughter dresses is how i USED to dress. I have evolved.
Another way to alchemize this passage is by being witnessed as you cross the threshold: Be honoured in ceremony. Host a gathering, a circle, or a party if you feel called to do so. I am doing just that and i can't wait! More on that next month, i promise!
If you need any further guidance or practice to help you find your way home back to yourself, meditate and cast a vision of the future you are dreaming about. Visit with the archetypes that inspire and resonate with you. Or check out this article, it may be helpful.
And remember, we are all works in progress, changing even without our full attention. If we do it with more intention, our dream life can be within reach. I have transformed: And yes, it may still include butterfly wings – i just wear them on the inside now.