It's butterfly season right now, and this summer brings a happy supply of them where i live. As they are an anchor for me, I've been working on creating a tool with the butterfly as the inspiration. I love the quote from Rupi Kaur that reminds us that 'growth is a process that takes time'. Indeed, strength is necessary for a caterpillar to become a chrysalis and then to transform and push out of cocoon. The metamorphosis of the butterfly is the perfect display of the rite of passage we all go through.
Some of us go through it more gracefully or intentionally, while many of us struggle as we did not have the best models of this sea change.
As a therapist, i am also a work in progress. I am my own wellness or resilience coach – I work hard to create my version of a balanced life by making a point to bring joy in, taking care of myself, as well as keeping myself connected to others. After reflecting on my own journey, i noticed an intuitive path that i took. With this in mind, i created this worksheet as a guide to help you.
I love Wheel of Life tools that highlight the various parts of us. The wheel is similar to the 6 Dimensions of Health Wellness: emotional, occupational, physical, social, intellectual, and spiritual. It was created to help people see the need for balance in this various realms. Reading this list, can you notice where you might need to make some changes? Did anything surprise you?
In order to build our capacity when we're faced with challenges, we also need to appreciate wonder and awe, moments of pleasure and joy. That's hard to do if you can't know what gives us this sense of pleasure.
The resource I created is similar to the wheel, and a bit unique as it breaks down the parts into the holistic trifecta of Mind, Body and Soul (sometimes referred to Spirit).
I believe this balance is even more sacred now. I don't think of the pillars of wellness as separate parts of our Self, but all 3 are interconnected for our overall well-being. We can't have one without the others. As social creatures, our nervous system has a social engagement system that also needs community and connection. That's why I included ways to feel connected to others. Even when apart, we need community.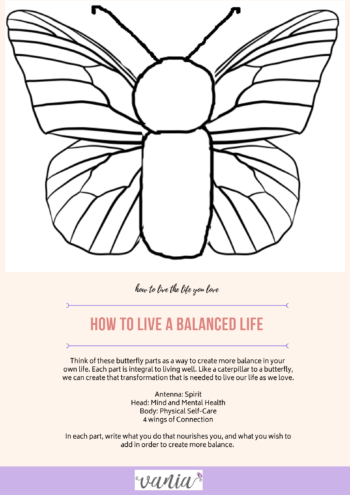 Think of these butterfly parts as a way to create more balance in your own life. Each part is integral to living well. So, the Antenna symbolizes the Soul; the Head is the Mind and mental health realm, and of course the Body represents the physical self-care we need to stay well. The 4 wings around it are for family, friends, work, and community. I call it The Four Wings of Connection. Add what you do that nourishes each part, and what you wish to add in order to create more balance. See what comes up, what's missing, and what you'd like to add moving forward. We are our own experts, so get to navigate the way we live our life – what do you chose? Use the butterflies you see in nature as a guide – take time to slow down and linger in one place.
what the caterpillar saw as the end, the rest of the world saw as the beginning. lao tzu
This season is a perfect time to set some intentions – both for the rest of the year, and to honour your experience this past year. It also serves as a guide to help you live your life with more intention, a life that you love.
I've created a free 2-page PDF that you can print and work on yourself, Get a cup of tea, a nice pen and take some time to sit with this. Click here to get a copy.