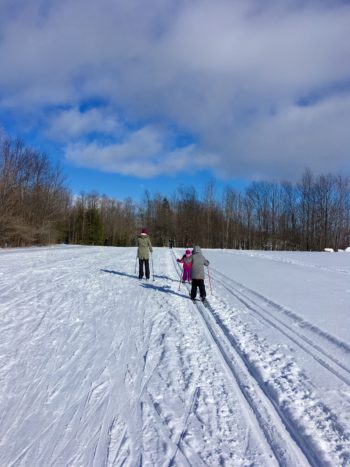 This week, my son went skiing for the first time. He went twice this week alone. The first time was cross-country skiing with our family, and the second was downhill with a school trip. I went with him both times, upon his request (and secretly i would have gone anyway). Full disclosure, we are not a skiing family or even sporty. But i grew up cross-country skiing and loved it. Mainly because it was a way to embrace the outdoors during the cold, long winter months. And it is so beautifully peaceful in a forest in the wintertime.
The first ski adventure, we didn't get lessons because we didn't think we needed them. His first frustration was putting on the skis. His second was falling and not being able to get up. His third was the first slight hill. So within 10 minutes, he was full of frustration and internalized shame about not being able to do something his sister and cousins were doing. And more so, he was angry at his body for not holding him up. Once this side of him comes out, he can be hard to get him back on track – no pun intended.
Between my partner and i, we took turns and deep breaths to help him. By the end of the day, he was skiing better, and made the right decision to walk down the last hill. Side note: i went down that hill and had the best epic Funniest Home Videos fall. I went right over my face into the snow and came up laughing. And not hurt. Luckily, my kids saw my fall and my reaction and i think it helped them see that it's okay to fall.
When we went with his school this week, my son embraced the challenge. Maybe it was partly due to being with his peers and the lovely support and connection his has with his classmates. Maybe it was because he's been skiing once before and remembers what his body can do. Maybe because downhill is easier (that's what he said). I don't know. But he did amazing – he loved the hills and he only fell once. At the beginning, when he was going down the very first hill for the first time to learn how to do the 'pizza' move to slow down. After that, he was hooked and now wants to ski on the regular. I'd like to take some credit, but i know it's about his more positive sense of self that day.
Go figure.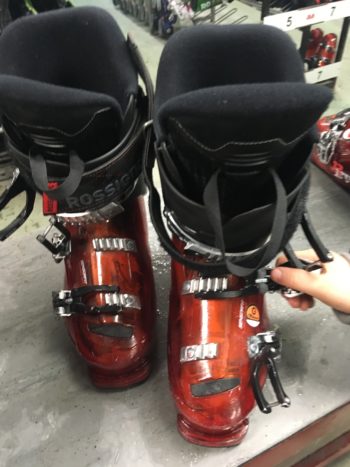 Let me backup and bit and give you some context: My son has had 4 broken bones and stitches twice, all from living life in distraction. Besides the healing process and permanent scars (both visible and emotional), my son has carried with him trauma from the various injuries. He goes quickly into freeze mode when he gets hurt, be it a small bump or a bigger fall. As a trauma therapist, i would hope my work and years of training would be able to help him when he is in distress or needing support to self-regulate the hard feelings.
I was pretty wrong about this.
He comes to me for cuddles and connection when he is sad, or lonely. But the anger and frustration feelings are harder for me to support and him to manage. That's why they are called hard feelings after all. After his initial fear has subsided, and he sees that he's okay, he goes into fight mode when he's frustrated. That is his trigger response, whereas I'm a freezer – so an interesting combo to say the least. I also get triggered by his anger as it's can get quite feral and aggressive. That's from my own history trauma and fear of intense conflict with others.
My children both know the work i do, relatively speaking. They know i work with women who have been hurt by someone in their lives as well as the parents i support who have just had babies. My son has been learning more about self-regulation, mindfulness, the downstairs/upstairs brain (thanks Dan Siegal), and we both know it's a work in progress still. So when he recently confronted my attempts to help him he blasted at me this poignant line: "Mom, what works on your clients won't work on me, I'm your kid"
Mic drop.
So, after a bit of an initial reaction, i processed this and realized maybe a bit too late that i need to be his mom first, and therapist second. And i need to be my partner's friend first and therapist second. And i am human first. Therapist second even for me. We are all works in progress, learning as we go after all. When i am in therapist mode, i am a bit removed and put up the necessary boundaries i need, and yet it may not be what my injured child needs at the time. I am also still learning how to manage my reactions to his injuries, my daughter's stubbornness, and my own need for quiet. As all therapists, i'm perfectly imperfect with this work too. I know my friends look to me for advice and assume i know what i'm doing. Let me tell you now, i don't always know. I'm just my best at the time like all of us. One thing i know is to give myself self-compassion and self-care treats on the regular. I have also learned how to sit with the pain of others because i too am a work in progress, who recognizes my own inner work: I can sit more comfortably with other's pain as i can see the other side of pain. This is a big part of being able to be a container for others. I know healing can happen.
Last night, my kids were excited to tell me about their day. I had a long day of listening to people's stories and sadness all day. Like most days, i love my work, and i maybe shouldn't have listened to a powerful podcast about stillborn loss on my walk home. I probably should have listened to my fun music therapy playlist instead. When i got home, i didn't know i was done listening, until my son was talking AT me for 20 minutes through dinner. We had a good chat about asking first to chat, and also my need to make sure that i was present for my family when i cross the threshold of my door. Back to mom, wife, woman mode. My work day is done.
And yet it never is.